Tracee Ellis Ross wears bright red lipstick to the gym for the best reason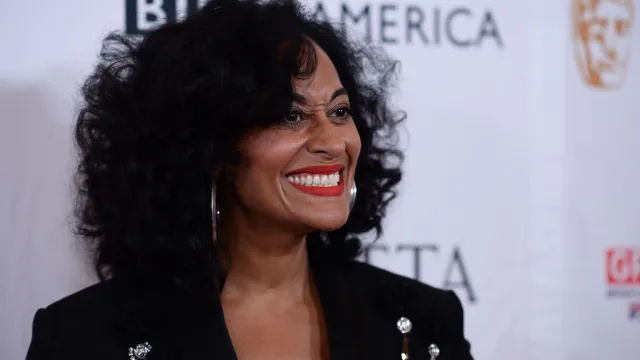 Sometimes it's hard to find the motivation to kick some butt when we go to the gym. But this tip might do the trick: Tracee Ellis Ross wears red lipstick to the gym. We know there's a stigma of wearing makeup to the gym (not to mention that it could clog your pores and cause breakouts). But hear her out.
Ross doesn't wear a full face of makeup or anything, just a swipe of red hot lipstick.
Her reasoning?
"I don't like foundation. I love the look of a fresh face with a pop of color on the lips. It makes me feel so good," Ross told InStyle. "I'll even wear a red lip to the gym. I do the Tracy Anderson Method, so there's a lot of mirror work involved. When I see my red lips reflecting back at me, I'm like, 'Yeah, girl, that's right!'
Specifically, she loves MAC's shade Ruby Woo.
While some people feel gross wearing makeup and working out, Ross uses it as a confidence booster.
She looks like she's kicking ass and taking names in that video. She chooses lipstick because unlike foundation, it's not going to sweat off. You can still look great as you work out, and not worry about getting it on a machine or sweating it off as you wipe your face.
"No joke over here at @TracyAndersonMethod #SweatyAF #RedLipFit, she captioned the video.
Ross doesn't just wait for the gym to rock a red lip.
https://www.instagram.com/p/BYW0glPDG_b
She swipes on the shade for fun nights out (or in).
https://www.instagram.com/p/BZF9QccDYlT
Her Black-ish character, Bow, also represents the red lip.
https://www.instagram.com/p/BYJyi18D3kJ
Sometimes we need all the motivation we can get when going to the gym to work. And lipstick and makeup and general can be used as armor or make us feel badass. We're glad Tracee Ellis Ross is showing us that working out and using makeup to feel powerful aren't mutually exclusive. Talk about working it! Time to get your #RedLipFit on.