Wait, is Tracee Ellis Ross actually putting together a "Magic School Bus Movie"?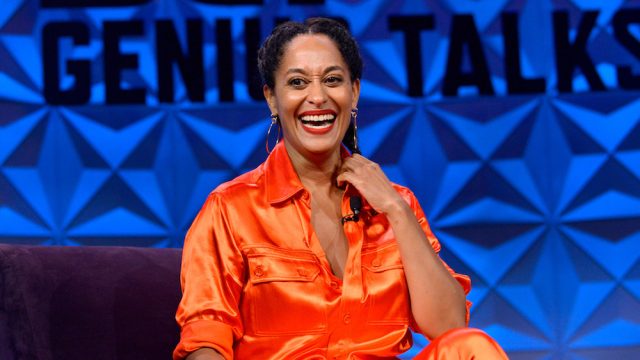 Film Twitter is working its magic again, this time with Tracee Ellis Ross and The Magic School Bus. Remember that time the Internet created real movie magic between Lupita Nyong'o and Rihanna? Here we are again, making things happen. The Twittersphere has been all a buzz with the idea of Ross playing Ms. Frizzle in a real-life Magic School Bus and it seems like it really could happen. We already told you that Ross is into the idea — but now it seems like things might be going to the next level.
Yesterday, Tracee Ellis Ross tweeted confirmation that she wants to actually make this happen.
Who should write! Who should direct! We love that Ross is even already referring to herself as Ms. Frizzle.
The idea makes perfect sense. Besides her beautiful curls, Ross is just as quirky and wise as Ms. Frizzle herself. If we had it our way, the movie (or Netflix original series, we're not picky) would be directed by a woman of color. Writer/Director Matthew A. Cherry took to Twitter recently to highlight some incredibly underrated Black female directors. Click through to see the whole list.
There's a good start! As for who could write, we love the idea of the original writers being involved. Grabbing a couple of the super talented writers from Blackish would help make it modern and hilarious. We can totally picture Ross driving a giant magic school bus through space dropping education bombs to the kids.
To help us envision it, Atlanta artist Raven White mocked up this gorgeous picture that we cannot get out of our heads. false
This school bus party is getting started.
Ms. Ross is in — Hulu, Netflix, Disney, Warner Bros? Where you at?
Ross can clearly carry a lead role like Ms. Frizzle. As Rainbow Johnson in Blackish, Ross continues to prove to the world that she is hilarious, heartwarming, and the perfect mentor-like figure to her kids. As Ms. Frizzle, she could teach the world about anatomy, space, and the importance of being yourself.
We are here for it and can't wait to watch how this all unfolds.