Tracee Ellis Ross is creating a Daria spinoff about BFF Jodie, and we already have our DVR set to series record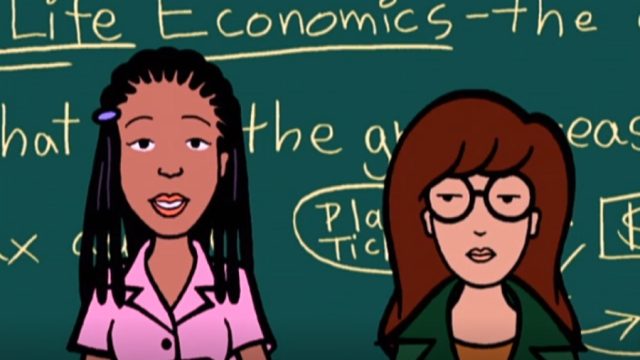 It's about time Jodie gets a spinoff. According to a June 13th press release from MTV, Black-ish star Tracee Ellis Ross is spearheading the adult animated series Jodie, which will revolve around Daria Morgendorffer's BFF from the cult classic animated show Daria. Is it just us, or is the casting honestly too good to handle?
Like Daria, Jodie will be a dry, satirical comedy, but this time it takes that vibe away from high school and into the post-college workplace. As Variety reports, we pick up Jodie's story as she enters her first job after college—a tech position (go women in STEM!). Jodie's former Lawndale High classmates are also slated to make recurring appearances.
MTV originally intended to reimagine and produce more episodes of the original Daria series, which ran from 1997 to 2002. However, the network now plans to expand the franchise into several series, with Jodie being the first official spinoff.
According to Variety, Ellis Ross will not only voice Jodie Landon, but she will also executive produce—making it the first animated show to star a black woman in more than 20 years.
"I am thrilled to bring this project to life with MTV, both as executive producer and by voicing Jodie's character. Being able to give voice to fresh, feminist and unexplored stories of young women excites me," said Ellis Ross said in a press release via Variety.
"We will feature a diverse cast, comprised mainly of unapologetically smart and ambitious young female characters who are vulnerable and flawed and interesting and funny," Ellis Ross continued. "It will be a smart, funny workplace comedy full of commentary about everything from gentrification to sex to tech to call-out culture."
We cannot wait to see Jodie come to fruition. And because Tracee Ellis Ross is such an icon, we know this show will be an instant classic.