We've now got one *tiny* clue about the plot of "Toy Story 4"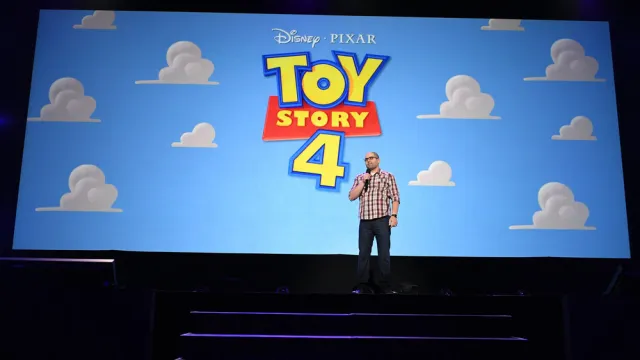 If you thought your crying over toys was over with Toy Story 3, think again. In two years (I know, I know, SO FAR AWAY), Disney and Pixar are going to release Toy Story 4. The movie's been in development for quite a white — think, two years already — but at least it appears to be chugging along nicely. At Disney's bi-annual D23 Expo, while nothing major was released about the movie, Pixar sure did *hint* at what might happen.
During the Disney Animation and Pixar panel at D23, John Lasseter revealed that he has handed directing duties for the movie over to Josh Cooley (who started as an intern at Pixar, and is now *directing Toy Story 4,* so believe in your dreams, kids). While Cooley didn't divulge the actual story of the movie, he did bring along with him a short featurette showing some fun behind-the-scenes moments from production.
And still, not telling us anything about what we can expect for Woody, Buzz, Jessie, and the rest of the toys, Cooley offered up some hints in his video.
Like, the first confirmed line of dialogue for the movie? The Little Green Aliens going, "ooohhhhh." Good to know.
As for the story? It might have something to do with a family road trip. During the video, we saw a quick glimpse one Toy Story producer who wasn't in the featurette, because he was with (what we can assume are) his family, in an RV, traveling somewhere. Cooley hinted that it sure was interesting that he was on a road trip, in an RV, and if that's not an non-reveal, we don't know what is.
So will the fourth Toy Story really be more of an adventure out there in the world? We'll find out in 2019.