Tove Lo opened up about why she has a tattoo shaped like a vagina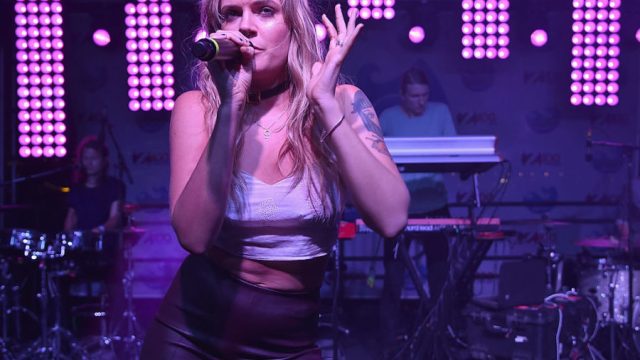 When it comes to fully appreciating the female form in all its glory, no one does it quite like Tove Lo. The Swedish singer and unapologetic vagina enthusiast has never shied away from being transparent about her sexuality. While chatting with Teen Vogue, Tove Lo opened up about her vagina tattoo.
We first noticed the tattoo on Tove's Instagram — it's perfectly position on her upper right arm, and is a simple black line drawing, stylized with a cross on the bottom. Much like the "O's" we see on her Lady Wood album cover.
But the reason behind the tattoo might be even better. Tove had this to say,
"My vagina tattoo reminds me not to make myself smaller, which is often what's expected of women. To be loud is to be seen as being a troublemaker. As girls, we're often not encouraged to speak up. I'm allowed to claim my space."
"The symbol, which is also on the cover of my album Lady Wood, is a reminder to go for the things that scare you but also give you a rush. People tell me all the time that I'm a chick with balls. It's supposed to be a compliment, but really it's insulting. Women don't need balls to be brave. Our vaginas will do just fine."
 And if that wasn't inspiring enough, she continued with a reminder we sometimes all need to hear,
"You should be proud of your vagina — it's a cool and positive part of you! Being open and free about the body and self-love (the way I am) can be provocative — but that doesn't mean that it's bad or dangerous."
We'd also like to take this opportunity to revisit the red carpet moment at the ARIA Awards where Tove Lo dazzled the crowd in this unique uterus-embellished dress.
Tove Lo has credited the fact that she is so open and sex-positive to her upbringing in Sweden. In an interview with the Guardian, she talked about how, growing up, sex and nudity weren't such a revolutionary or taboo thing as they are in the U.S. — they were just a natural part of life.
We couldn't agree more and we're definitely feeling a little more empowered.