We're totally loving Zac Efron in the new trailer for the "Baywatch" movie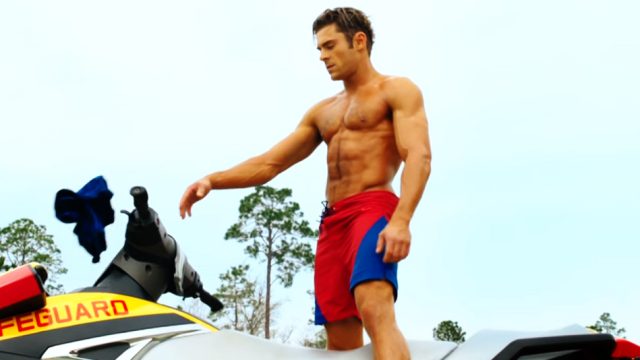 Fans of '90s television, rejoice. If you weren't aware earlier, there's a Baywatch movie starring Zac Efron that's coming out, and judging by the sneak peek that he shared yesterday — as well as the official movie trailer that came out today — it's looking pretty fantastic.
So, not to make you feel old, but Efron was only two when the original show came out. Baywatch premiered in 1989 on NBC, and Efron "premiered" on October 18th, 1987. That said, the show is such a classic, and has its fair share of parodies, that Efron likely did his homework before officially signing on.
The film, which also stars The Rock, has been in production for about a year.
Of course, after showing just 20 seconds of what looks to be a pretty funny movie, the audience wanted more. (And, uh — maybe more beach shots with Efron, if we could afford to get picky about it.)
Well good news: As promised, the official trailer premiered earlier today.
https://www.youtube.com/watch?v=PpRWzinZfkk?feature=oembed
From the looks of it, they're trying to take a 21 Jump Street spin on the movie, and add some humor while not necessarily mocking the original premise of the series. And it worked for 21 Jump Street, so perhaps it can also work here.
We're already loving the chemistry between The Rock and Zac Efron, so if they keep it up throughout the entirety of the film, they might just get themselves a sequel.
The movie will be coming out in May of next year, and we seriously can't wait!