Tortoiseshell nail art is the snappy new trend you'll want to show off all summer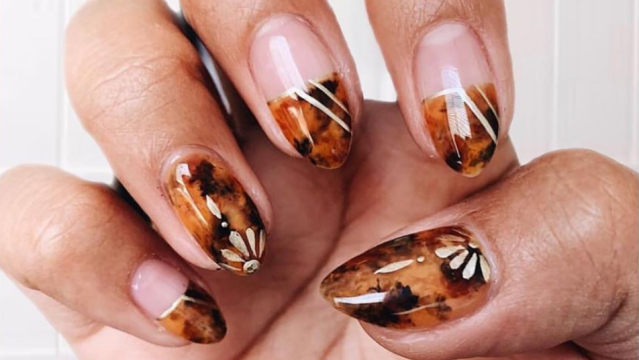 If you're anything like us, you're probably psyched that tortoiseshell accessories are making a big comeback. Our favorite print from the '90s adorned everything from hair clips, to sunglasses, to plastic hoop earrings back in the day—and it's returned in full force. Now, it's not only back via jewelry and accessories, but also made its way to our manicures, too. The print of the season is a great candidate for your next nail art session, thanks to its high gloss and impossible to resist finish.
Tortoiseshell nails are also surprisingly easy to DIY, thanks to the imperfect nature of the design. No need for precision here, and definitely don't worry about creating the exact same shapes and patterns on each nail. That's not what this trend is about.
Below are some of our favorite examples of tortoiseshell nails on Instagram, from all-over prints, to accent nails, to negative space nail art. Get inspired.
May we suggest you always match your nails to your jewelry from now on?
…and your sunglasses, too.
You can go as dark or as light as you want with your base color.
We love the glossy finish.
Negative space adds some edge to this look.
They work on short nails, too (#tortiesforshorties).
https://www.instagram.com/p/BwnJ_bqB14e
Not into all-over tortoiseshell? Go for a few accent nails instead.
We could watch this forever, tbh.
A pop of neon makes this look so fresh.