17 different ways to wear Pinterest's 2019 tortoise earrings trend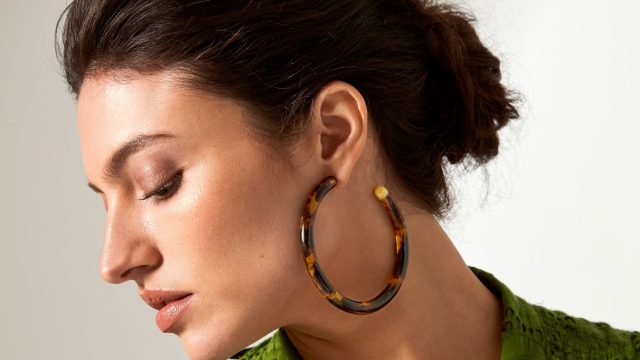 If you're already shopping for fun fashion pieces to wear in the new year, you are not alone. From sequins dresses for your New Year's Eve party, to colorful faux furs to keep you warm, it's the season to shop 'til you drop.
Thankfully, we can get ahead of the 2019 trends now that Pinterest has released its annual report. Among the list for women's fashion are comfy bike shorts (you know, the ones the Kardashian made popular this year), flashy sneakers, and animal prints. Basically, things are going to be funky and fresh in the new year.
According to Pinterest, one of the top accessories for 2019 are tortoise earrings. Yup, that simple, yet striking pattern is going to be the next big thing in jewelry. So skip the studs and put away the tassels (only for a little bit). We rounded up both glitzy and subtle tortoise earrings for you to shop—whichever floats your boat. Either way, you'll be ready and ahead of the trends come 2019.
1Baublebar Devinne Resin Druzy Hoop Earrings
Baublebar is known for its glitzy earrings, and these trendy tortoise-patterned ones are no different.
2Leith Resin Statement Earrings
Get the best of both worlds with these marble and tortoise shell-patterned earrings.
3Fashion Nova Can We Circle Back Earrings
Simple yet chic hoop earrings that will jazz up any outfit.
4Urban Outfitters Roux Chunky Resin Hoop Earrings
Baby hoops never go out style, but these tortoise ones will be oh-so-trendy.
5Boohoo Gold Contrast Tortoise Earrings
Give your outfit some attitude when you wear these dazzling hoops.
6PrettyLittleThing Tortoise Shell Hoop Earrings
These statement earrings have it all: They're both glam and funky.
7H&M Gold Tortoise Pattern Earrings
The geometric shape adds a fun element, while the gold piece gives it a high-fashion feel.
8J.Crew Crystal and Tortoise Clip-On Earrings
No matter your outfit (sweats or a cocktail dress), these drop earrings will bring on the glam factor.
9Forever 21 Tortoiseshell Drop Earrings
This hoop style is a little bit retro, and the cute tortoise print will make any outfit pop.
10Baublebar Faidra Resin Drop Earrings
Looking for something subtle but not boring? Then these gold-trim tortoise earrings have your name all over them.
11Fashion Nova Jumping Through Hoops
Classic round hoops with a tortoise pattern? Yes, please.
12Lulus Cool Boho Earrings
Tassel earrings with a tortoise pattern? We're clutching our pearls.
13Zara Spiral Earrings
The only "shape" we want to get into in the new year.
14PrettyLittleThing Tortoise Wish Bone Drop Earrings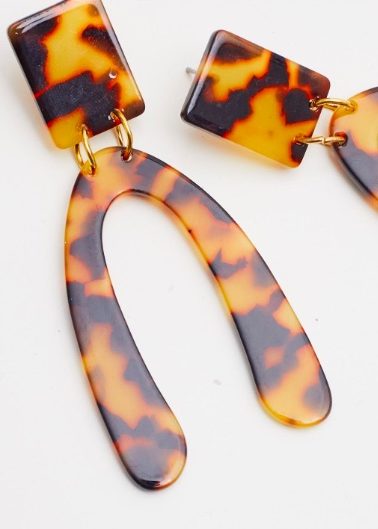 No need to break off this wish bone. Because when you own drop earrings like these, your wish has already come true.
15Cult Gaia Acrylic Ark Earrings
Make a splash with these fan-shaped, tortoise-printed earrings.
16ASOS River Island Tortoise Chain Earrings
These drop earrings are so fancy, we can picture Joan Collins wearing them.
17Cult Gaia Geneva Earrings
Can't go wrong with this classic hoop shape.