Torrid's new wedding dress collection is all under $400 and available up to size 30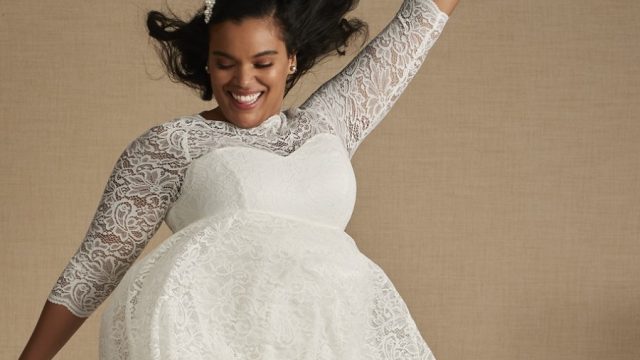 As anyone who's ever planned one knows, wedding costs can add up quickly. But when pictures will live on long after the Big Day, you don't want to skimp on a dress that you adore—and that fits how you want it to. That's what the new Torrid wedding dress collection, Ever After, aims to give you: a bridal gown that's affordable, size-inclusive, and made to fit comfortably, while matching your style.
"Torrid's bridal styles focuses its attention on the perfect fit for every bridal occasion, from the bachelorette party accessories to the wedding gown itself," Torrid says via a press release. "Each piece is designed and built to comfortably conform, shape, and uplift her."
The new Ever After collection has wedding dresses, bridesmaid dresses, and bridal jewelry and accessories, along with some cute "extras" like "Mrs." pajamas. Each dress is available from size 10 to size 30—as is all clothing across Torrid. Every wedding dress comes in under $400, with many styles as low as $198. For a dress you'll honestly probably only wear once in your life (though Troian Bellisario is a wedding gown-redo inspiration), that feels much more reasonable than some astronomical pricetags.
Shop some of the Ever After bridal gowns below.
Torrid Ivory Lace Capelet Wedding Dress
Boho brides will love the lace and silhouette of this wedding dress. The capelet overlay and fit-and-flare style mean that your dress will have movement when you're swaying along to your first dance with your new husband or wife.
Torrid Ivory Lace & Tulle Beaded Sash A-Line Wedding Dress
The long sleeves, the lace detailing, the beaded belt—this is the ultimate classic wedding dress for less than $350. A-line tulle in the skirt, let's be honest, will just be fun to play around in.
Torrid White Leopard Satin Strapless Wedding Dress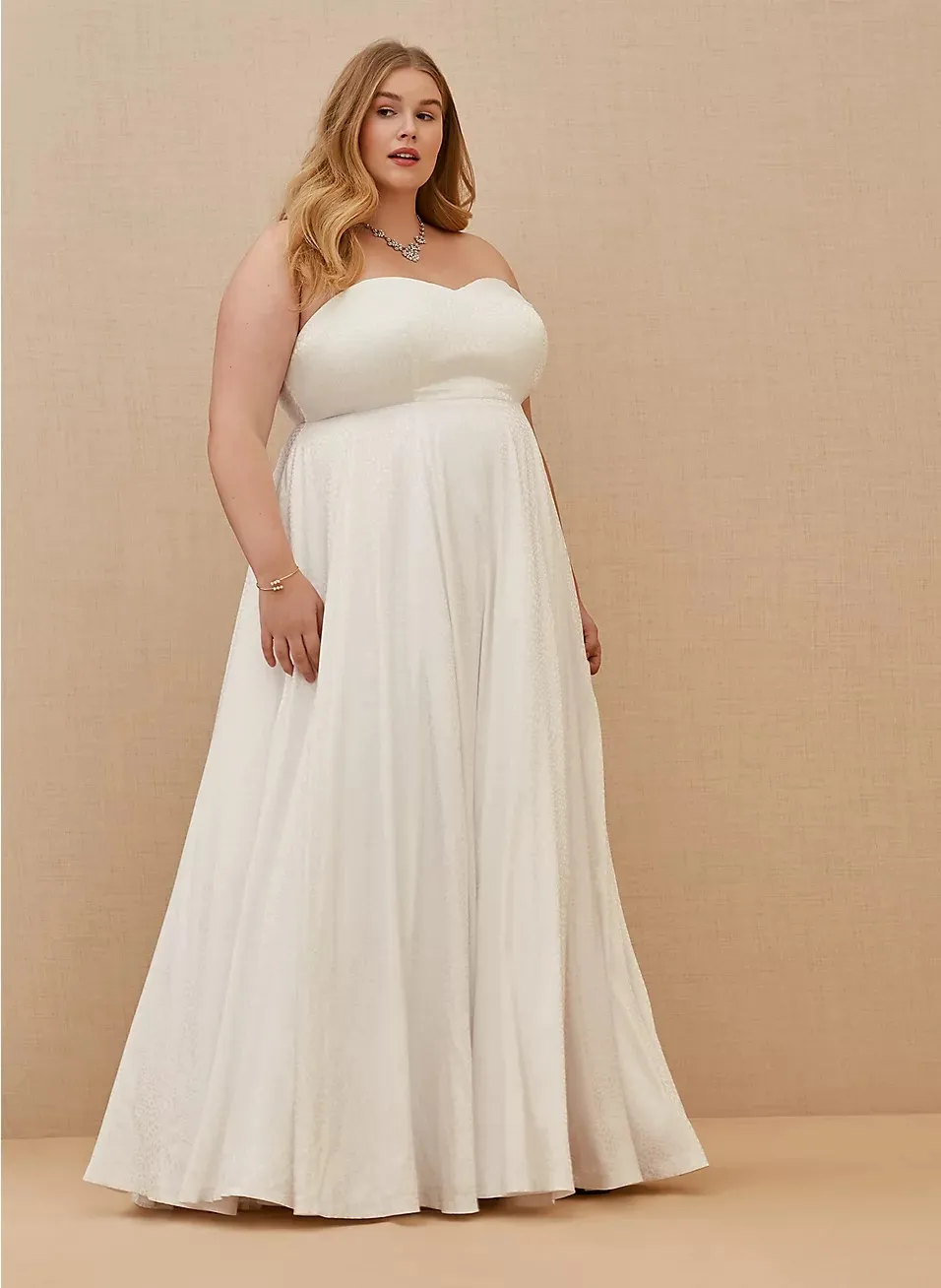 If leopard doesn't feel "bridal" to you, just check out Torrid's white leopard satin gown. It's super subtle but adds a little bit of texture to the shine in the fabric.
Torrid Ivory Lace Short-Sleeve Fit & Flare Wedding Dress
We're getting some Pippa Middleton wedding dress vibes from these lace short sleeves—though we'd bet this one is much more affordable than the royal-in-law's dress. If you love the rhinestone belt in the above picture, you can also buy it on Torrid for less than $30. (It's even currently on sale for $19, so grab it now if you love it.)
Torrid Ivory Satin Off-Shoulder Mermaid Wedding Dress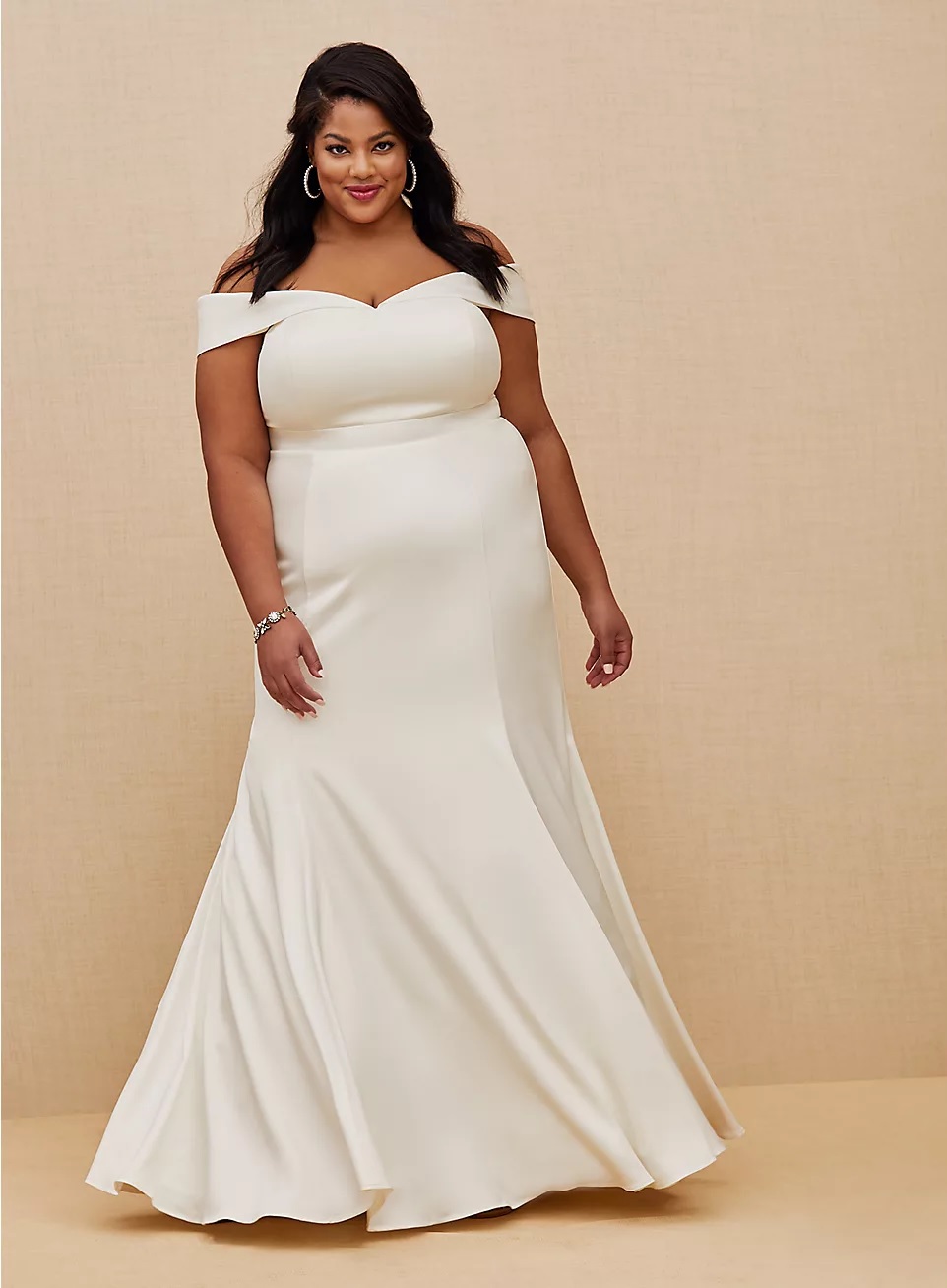 This satin wedding dress is so timeless and sophisticated, you won't cringe when you're checking out your wedding Instagram pics a decade later. That off-the-shoulder, sweetheart neckline? *Chefs kiss.*
Torrid Ivory Mesh Flutter Sleeve Empire Wedding Dress
The fabric of this fluttering dress feels so romantic that we'd move our weddings outside just to see it move in the natural air. It has a pearl and rhinestone band that will give a little glimmer to the style.
Torrid Ivory Chiffon Cape Sleeve Wedding Dress
There are sleeves, and then there are statement sleeves. This wedding dress brings the drama. Make the wedding aisle a runway with these billowing cape sleeves, and you can skip the long veil.
Torrid Ivory Lace A-Line Boho Wedding Dress
This lace and Swiss-dot gown is beautifully bohemian. It looks so easy, with its A-line silhouette and flutter sleeves, we honestly wouldn't be surprised if you wanted to re-wear it for non-wedding day occasions.
Shop all Torrid wedding dresses from its Ever After collection here.