Are Tormund and Lyanna Mormont teaming up for "Game of Thrones" Season 7?!
If we had to pick two of our favorite characters from Season 6 of Game of Thrones then we'd have to say Tormund "I want Brienne more than Daenerys wants the Iron Throne" Giantsbane and Lyanna "shuttin' down the patriarchy one old dude at a time" Mormont. Sure, in reality, we love every single character on Thrones, even the evil ones – but Tormund and Lyanna made a serious impact on all of us this past season.
THESE TWO.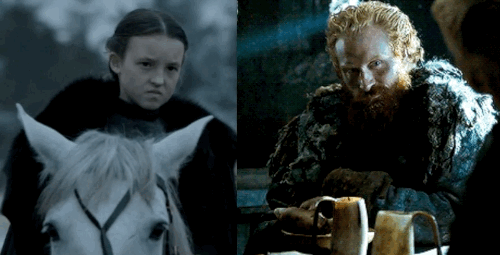 We don't know yet what exactly will happen to these two superstars in Season 7 of Thrones, but IRL Tormund, actor Kristofer Hivju, just posted this ~very interesting~ (and adorable) photo of himself and IRL Lyanna, 11-year-old actor Bella Ramsey.
"LOOK OUT FOR THIS ONE!" he writes.
Kristofer continues with the high praises as well as a TEASE about what to expect next year,
"Bella Ramsey portrays Lyanna Mormont with such a strength, authority and coolness! [...]Can't tell you if our characters meet or not this season - but I can tell you this: you have SO much to look forward to in season 7! Hallelujaaaaa!"
It's certainly not a confirmation that Tormund and Lyanna will be teaming up, but it's not outside the realm of possibility. Technically they didn't have a ~formal~ meeting in Season 6.
But when we last saw Tormund and Lyanna, they were jointly hailing Jon Snow as the King in the North. Plus, along with Sansa, they're basically Jon's closest allies at this point, so… Anyway, Game of Thrones plot theories aside, it's fun to see these insanely talented actors goofing around behind-the-scenes.
Looking forward to seeing both of you in 2017 (and hopefully kicking ass together)!