These Are the Top 5 Ugly Sweaters You're Rocking Around the X-mas Tree This Year
From The Grinch to Gremlins, you're choosing this holiday staple based on iconic flicks and funny one-liners..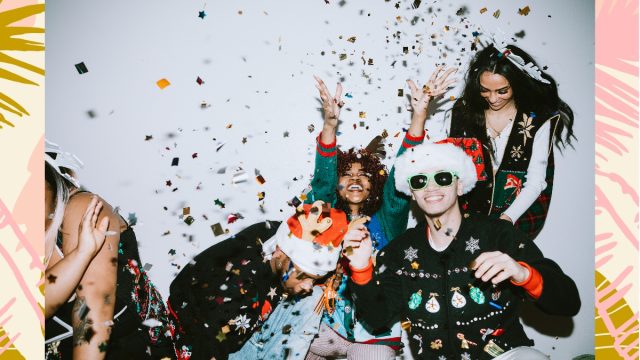 The product recommendations in this post are recommendations by the writer and/or expert(s) interviewed and do not contain affiliate links. Meaning: If you use these links to buy something, we will not earn a commission.
Perhaps one of the most fun traditions related to the holidays, revolves around who can pick the best (or in some cases, worst) ugly sweater. From ugly sweater-themed parties, to casual Fridays at the office, donning one has become a way to help lighten up the mood around the stress of the holiday season. Bonus points if it has bells or garland dangling off of it.
It can be your best accessory at that next holiday soiree (second to the peppermint martini). In fact, ugly sweaters have become so popular, 23% of you are buying one this year.
One website even conducted a study to figure out the most popular ones to get your hands on this year. Did you know there's even a National Ugly Sweater Day? Yup, that's right, Dec. 16, 2022 is a national day dedicated entirely to our favorite festive item of clothing.
RELATED: 5 Signs You Can Officially Start Celebrating the Holidays Now 
Research by Boohoo analyzed Google searches to establish which sweaters are the most sought-after in 2022, and it turns out, they are all related to classic holiday(ish) films. So without further ado, here are the top 5. 
1. The Grinch
Topping the list is everyone's favorite grouchy gift thief, The Grinch, averaging 4,000 searches per month. No surprise, since How the Grinch Stole Christmas has been a holiday hit since the 1960s, and has been revived many times over.
Show your UN-Christmas spirit with choices feature the Dr. Seuss character's fuzzy green face, or you can also get Grinch-ey inspired sweaters with sayings like "I hate people," "all your sweaters are ugly," and "I'm the reason there's a naughty list."
2. Die Hard
Second on the list, is inspired by a movie that isn't your average feel-good holiday flick (and in fact, there's been many debates online over whether it even is a Christmas movie). We're talking about none other than Die Hard, the action movie starring Bruce Willis. 
The Christmas sweater in question is a famous line straight from the move — emblazoned with 'Now I Have a Machine Gun – HO HO HO' on the front, receiving 3,200 searches per month. 
3. Home Alone
Coming in hot at #3 is Home Alone, the 1990 classic starring Macaulay Culkin. In case you've been living under a rock and have never seen it, Culkin is an adorable kid who gets left behind to deal with burglars when his entire family travels to France for Christmas.
While Culkin's character Kevin dresses himself in a plain red sweater in the film, it's more graphic prints inspired by the movie that you're looking for in your Home Alone themed ugly sweater. "Merry Christmas Ya Filthy Animal," being the most popular, and memorable.
4. Gremlins
A surprising choice in 4th place? Gremlins. The adorably ugly little creatures from this 1980s film is an unusual choice when it comes to Christmas movies, but with 1,250 searches a month on average, many fans are choosing a green Gremlin-themed sweater. Just be sure not to spill any water on it! 
5. Christmas Vacation
Rounding out the list is no surprise. With more funny moments, wacky characters and one-liners than probably any movie in history, National Lampoon's Christmas Vacation provides plenty of inspo for ugly sweaters. Choices range from Cousin Eddie's classic line "shitter's full," to main character Clark Griswold's "jolliest bunch of a**holes this side of the nuthouse."
You can take it a step further and go 3D with a squirrel on your shoulder, referencing the famous squirrel chase scene, or my personal fave, Aunt Bethany's fried cat.
If you're going for a couple's theme, Clark's obnoxious yuppy neighbors Todd and Margo's "why is the carpet all wet Todd?" paired with "I don't KNOW Mar-go" make a great choice.
Movies we're surprised didn't make the list? Will Farrell's Elf, and A Christmas Story, with its memorable pink onesie pajamas and infamous leg lamp. But, there's always next year.
While you can find ugly sweater selections everywhere from Amazon to Walmart, there's even an entire website related to them, where you can spend hours browsing to your heart's content. Or, you can get super creative and DIY, making lots of Insta-worthy moments. Whatever you choose, we're sure it'll be the hit of the holiday par-tay.
Jené Luciani Sena is an accredited journalist and internationally-renowned bestselling author, regularly seen on national TV outlets such as Access Daily, Today and Dr Oz. Touted as one of Woman's World Magazine's "Ultimate Experts," she's a TEDTalk speaker and a busy Mom of 4.
Read more