Clip-on hair extensions? Lava lamps? This was the top-selling item in your state during the holiday season
Fine, call us nosey. But we can't help it if we want to know all the goings on in each state across the U.S. So when Earny reached out to us with data showing the top-selling item in each state, we dove in head first. Come on. Who wouldn't want to know what their neighbors across state-lines are buying?
Earny, the app that "automatically gets you money back on almost every item you buy," analyzed more than 100 million online purchases made between November 1st, 2017 and February 1st, 2018 with the goal being to see who was buying what.
The results are pretty funny/fascinating/somewhat-shocking.
Some of the top-selling items were apropos to the state in which people were buying them. For example, residents of New Hampshire bought ice scrapers and snow brooms between November and February — which makes a lot of sense. And in California, where celebs and Silicon Valley techies run amok, iPhone X screen protectors were the #1 buy — which also makes a lot of sense.
But there are some definite wildcard purchases on the Earny top-sellers map and we now have a lot of questions. Like, why were so many people in Ohio buying lava lamps? What's going on in South Dakota that requires an excessive amount of carpet cleaner? And are clip-in hair extensions a necessary part of New Mexico's dress code?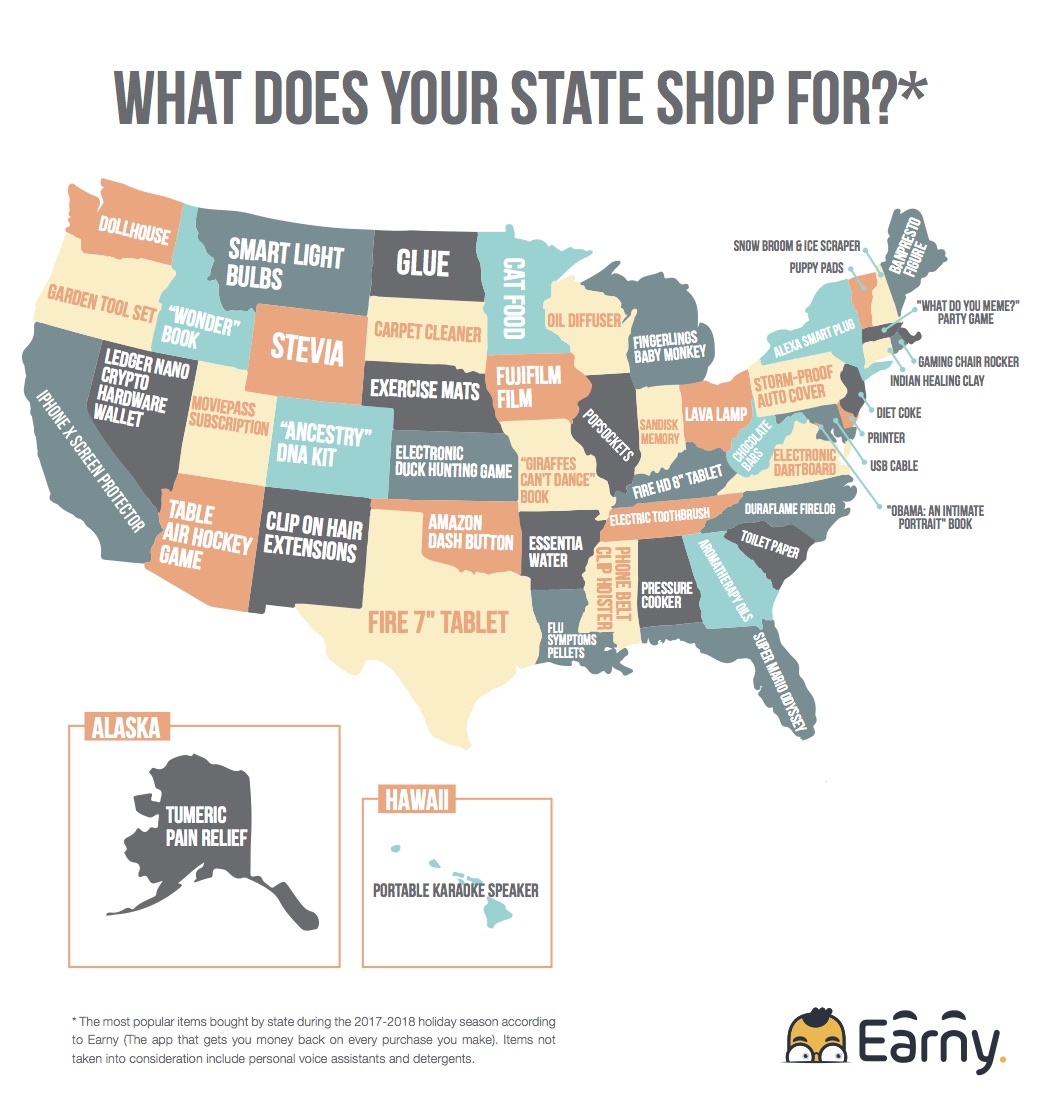 Some of these purchases make more sense when we take the holiday season into consideration. Dollhouses, the Alexa Smart Plug, the Ancestry.com DNA Kit, and the Fire 7″ Tablet all make great gifts.
But thinking about all the people who bought glue in North Dakota and the number of people who are walking around with portable karaoke speakers in Hawaii really makes us chuckle.
Sign up to save money and contribute to future hilarious studies like this one via Earny's website. (And if you happened to live in Ohio and bought a lava lamp between November and February, please let us know the reasoning. We're dying to know.)
Stay weird, America. Stay weird.