Too Faced's Sweet Peach lip gloss is already on sale at HSN
It feels like we've been waiting an eternity for Too Faced Cosmetics' Sweet Peach line to drop — we need these gorgeous products ASAP! So imagine our delight to find that their Sweet Peach Oil Lip Gloss is already available for sale at HSN! Ah, good old HSN: purveyor of fine goods at reasonable prices. They're so steady and accessible, you can always count on them to deliver! And while it looks like we'll still have to wait until midnight to get the eyeshadow palette and Sweet Peach Glow, we can satisfy our peachy cravings at HSN now!
As of now it's only available in one shade, Tickle Me Peach, for $19.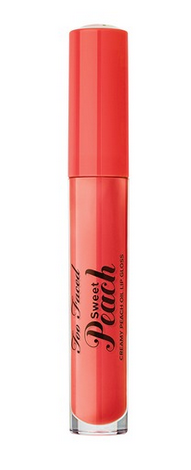 This watermelon-y shade has that trademark sweet peach scent and is a moisture-rich gloss that will hydrate your lips without that sticky aftermath that so many glosses leave behind. Hello shine, goodbye mess!
We're just going to have to practice our patience and wait to get our hands on the rest of the lip gloss line! Luckily, we'll have Tickle Me Peach to tide us over.
Peach Fuzz, Papa Don't Peach, Peach-scicle, Peach Please!, Pure Peach, Poppin Peach, and Peach Tease are almost here!
Are you gonna jump on Tickle Me Peach today at HSN or wait until tomorrow so you can get the whole set at once? HSN is throwing in free shipping to sweeten the deal, if that helps with your decision!
As with everything made by Too Faced Cosmetics, the Sweet Peach Collection is cruelty-free, so you don't have to feel guilty about indulging! On top of that, we're guaranteed Too Faced's stellar quality and dependability, so you know that these glosses, along with the rest of the collection, are going to be top notch. They're sure to be worth every penny!