Too Faced's long-awaited White Peach eyeshadow palette just landed at Sephora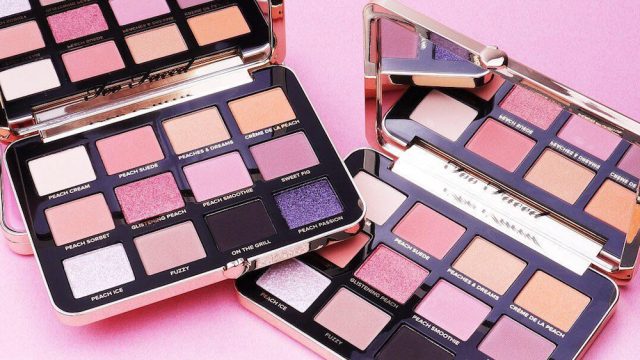 The latest addition to Too Faced's Peaches & Cream collection is a highly-anticipated eyeshadow palette called White Peach, and we are pleased to report that it has officially launched. Whether you need a mid-winter pick-me-up or are already stocking up on those lovely springtime shades, this palette will fit all of your beauty needs.
The palette features shimmer, matte, and glitter shades infused with peach and sweet fig cream, so it smells just as sweet as the rest of the collection. All of the hues are romantic and ethereal, but Too Faced also threw in a couple unexpected and unique shades.
White Peach includes multi-dimensional shadows that add dimension and light, especially when paired with the rest of the collection. From sparkling peach, champagne, and soft pink hues to deep plum shades with a sultry vibe, it's a surefire way to amp up your look.
The shadows are formulated to provide buildable, intensely saturated color and are laid out in an ombré position on the palette itself for easy transitions. It allows for you to maximize your creativity and inspires bold looks.
The Too Faced White Peach Palette is now available for $45.
Head on over to Sephora or TooFaced's website, and check it out for yourself, the shades are enchanting.
The palette includes: Peach Cream, a matte soft cream; Peach Suede, a matte dusty rose; Peaches & Dreams, a golden peach pearl; Creme de la Peach, a soft coral with gold sparkle; Peach Sorbet, a matte creamy peach; Glistening Peach, a rose gold with sparkle; Peach Smoothie, a matte rose taupe; Sweet Fig, a matte smoky mauve; Peach Ice, a white shimmer with gold sparkle; Fuzzy, a matte creamy grey; On The Grill, a matte charcoal grey; Peach Passion, a deep orchid with blue and purple sparkle.
Pair these with other matte shadows from the Peaches & Cream collection or develop an entire look from this one perfectly curated palette — either way, you can't go wrong.
Head on over to Sephora and TooFaced's website, and pick one up for yourself.