Too Faced's White Chocolate eyeshadow palette dropped early at Sephora, and it's oh-so-sweet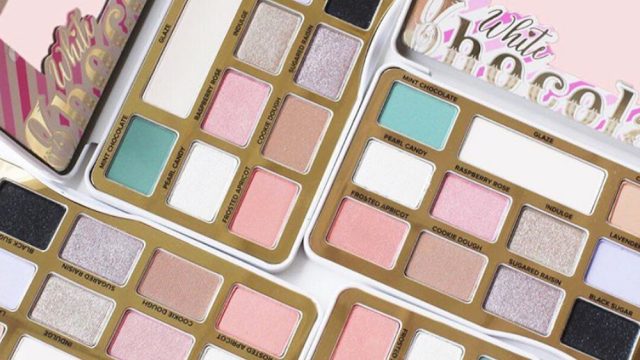 One of Too Faced's most popular collections is its cocoa-infused, chocolate-inspired palettes.
We knew that after the success of the White Chocolate Chip palette it was only a matter of time before we got a full-sized Too Faced White Chocolate Bar eyeshadow palette — it just couldn't come soon enough. We're thrilled that it's finally here and we can all enjoy this gorgeous, sweet, and soft new eyeshadow palette.
This creamy, cocoa-filled palette is now available at Sephora for VIB and Rouge customers, and the rest of us only have to wait a couple more days before we can get our hands on this beauty.
It features 16 shades in matte and shimmery finishes.
The White Chocolate palette includes: Mint Chocolate, a matte smoky teal; Glaze, a matte cream; Cake Batter, a matte soft peach; Exotica, a silvered beige; Chocolate Syrup, a matte pinky mocha; Pearl Candy, a shimmering icy white; Raspberry Rose, a soft golden pink; Indulge, a silvered taupe; Lavender Cake, a matte lavender; Guilt-Free, a matte cool grey; Smoked Sea Salt, a matte charcoal grey; Frosted Apricot, a matte apricot with silver sparkle; Cookie Dough, a matte beige with gold sparkle; Sugared Raisin, a shimmering silver mauve; Black Sugar, a black with holographic sparkle; and Banana Date, a soft creamy satin beige.
The Too Faced White Chocolate Bar Eyeshadow Palette is available for $49.
https://www.instagram.com/p/BbfR-4CDCpi
It's an absolute dream.
All the shades in this palette are rich in antioxidants and feel super indulgent. It features a rich, highly-pigmented formula that offers true color payoff and blends seamlessly.
The Too Faced White Chocolate Bar Palette will be widely released on November 23rd.
We can't get over these romantic, beautiful, delicious-looking shades.
Head on over to Sephora and snag them ASAP if you're a VIB or Rouge member, and if you aren't just set your alarms for the 23rd, so you can be among the first to add this beauty to your collection.