I tried the Too Faced Tutti Frutti collection, and it took me right back to childhood
It goes without saying, but Too Faced has been on a roll with its makeup launches in the past few months. First, they expanded the Born This Way Foundation shade range in collaboration with Jackie Aina, and now the brand launched its playful Tutti Frutti collection. The deliciously scented line features 53 products that are exclusively sold at Ulta (both online and in-stores).
The collection includes juicy lip glosses, blush and bronzer duos, glittery liquid eyeshadows, highlighters (in powder, stick, and liquid drop formulas), a brightening powder, a setting spray, and a range of foundations (which are cucumber- and watermelon-infused). This entire line is like scratch and sniff stickers in makeup form.
I was fortunate enough to receive a generous amount of the collection to test out, including two blush duos, one bronzer/highlight duo, the brightening banana powder, four liquid shadows, one highlighter drop, six foundations, five lip glazes, and the berry-colored eyeshadow palette.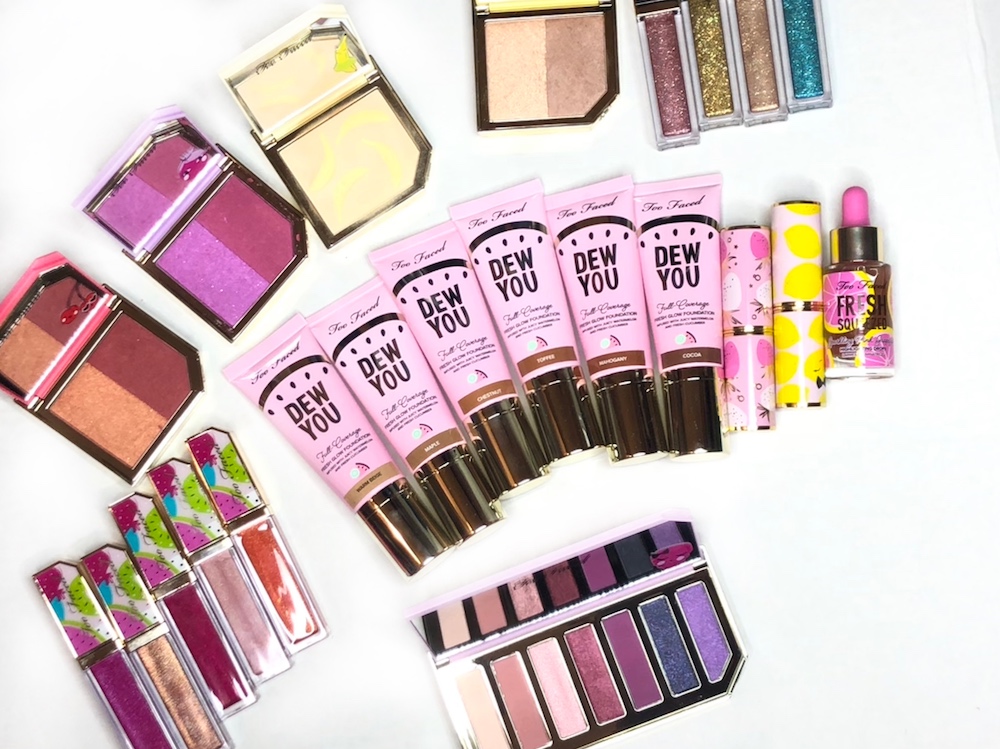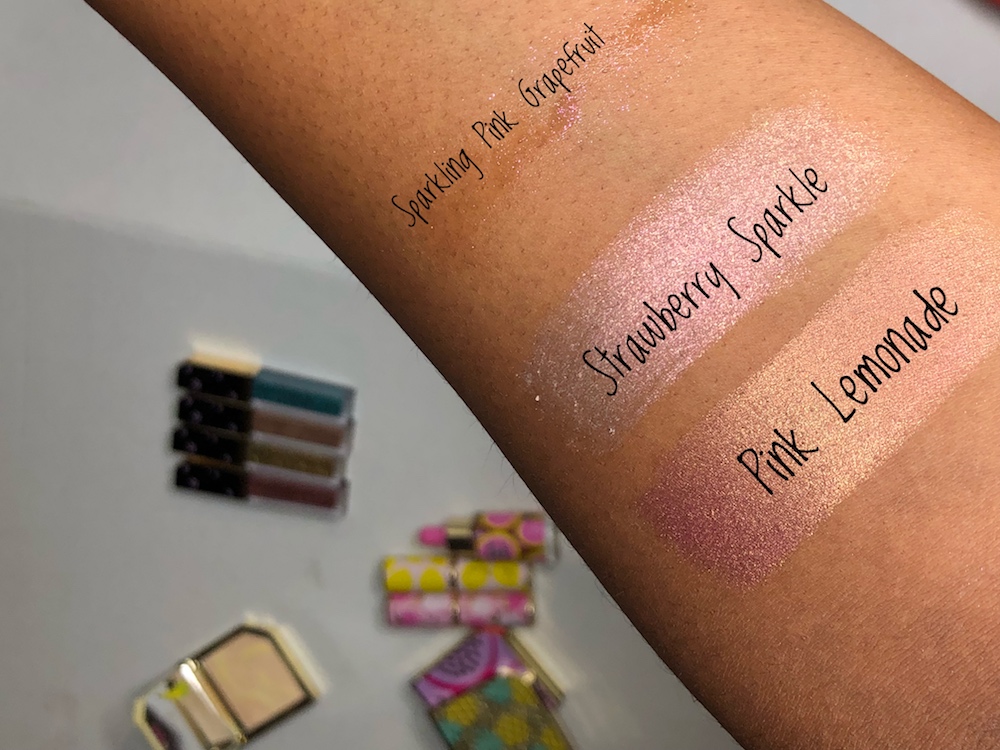 All of the highlighters I received have a hint of pink, but the color isn't too over-the-top. The Pink Lemonade shade has to be one of my favorites because it has a slightly gold undertone, and I personally think that looks good on warm undertones like mine.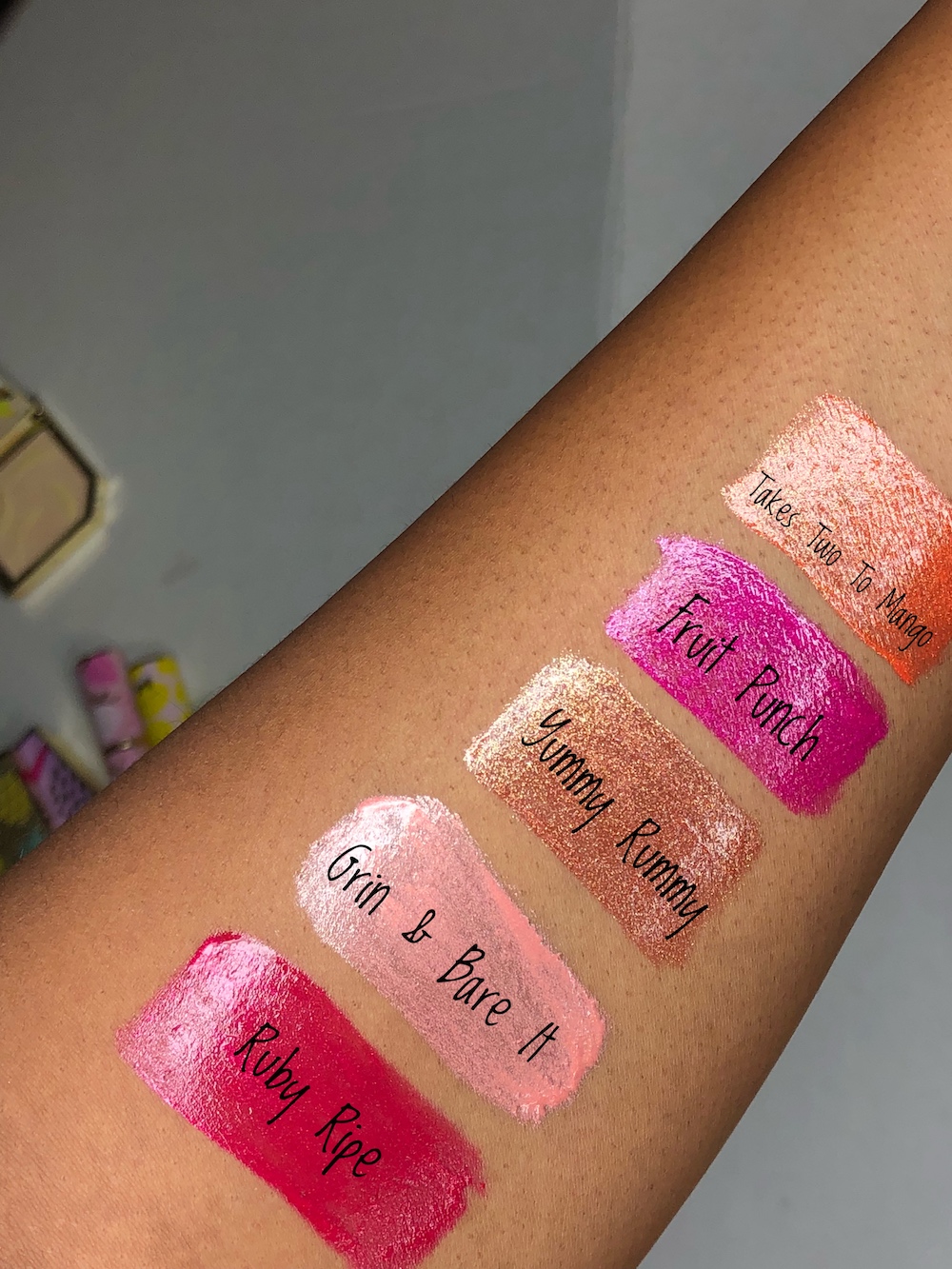 These Lip Glazes have the texture of a lip gloss but almost the pigment of a lipstick. They all smell divine and have a wand that is great for precise application.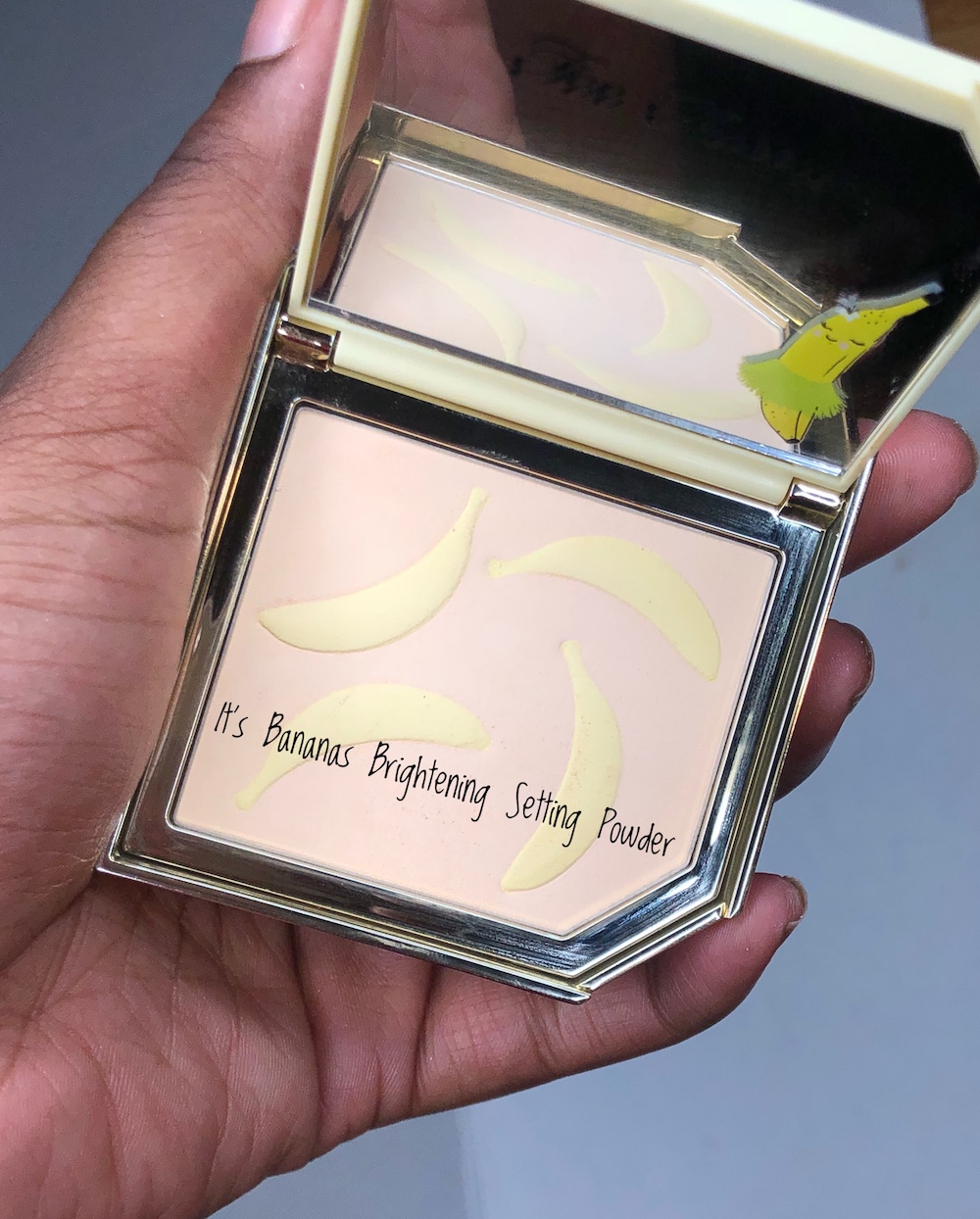 I usually set my makeup with loose banana setting powder, but this compact was new to me. I actually ended up loving the It's Bananas Brightening Setting Powder. It set my Born This Way Super Coverage Multi-Use Sculpting Concealer perfectly. Even though my concealer is usually a couple shades lighter than my skin tone, this powder gives my skin a nice brightness after everything is blended.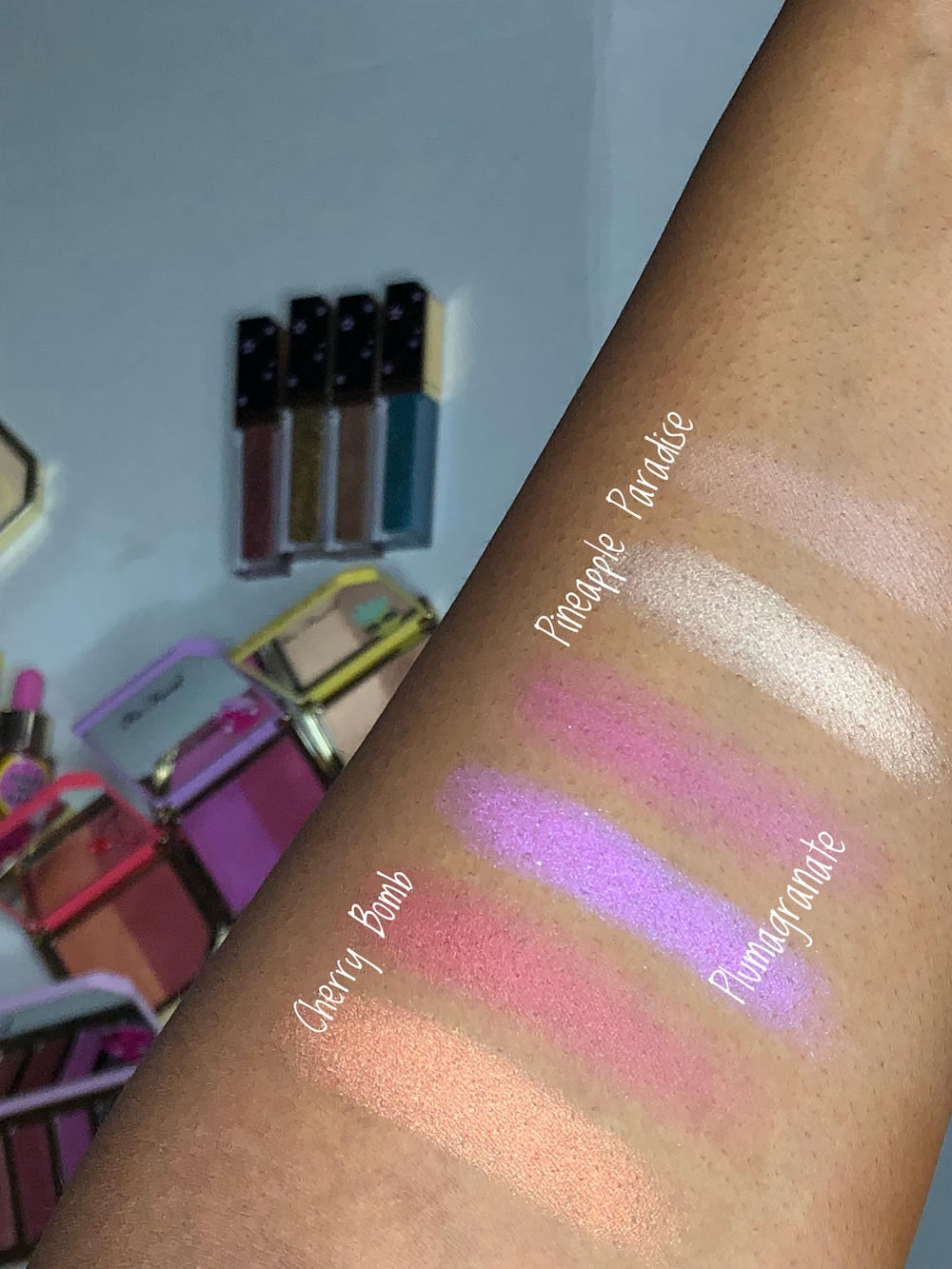 Out of the blush duos, the Plumagranate is my favorite. Even though mine came broken (sad face), it was beautiful nonetheless. Trust me, the photos don't do these duos justice. They are more breathtaking in real life. As for the Strobing Bronzer and Highlighting Duo in Pineapple Paradise? It's definitely one of my favorites.
Swatches of the Twinkle Twinkle Liquid Glitter Eyeshadow in Sweet Spot, Lemon Zest, Strawberries and Champagne, and Ice Queen ($22, each)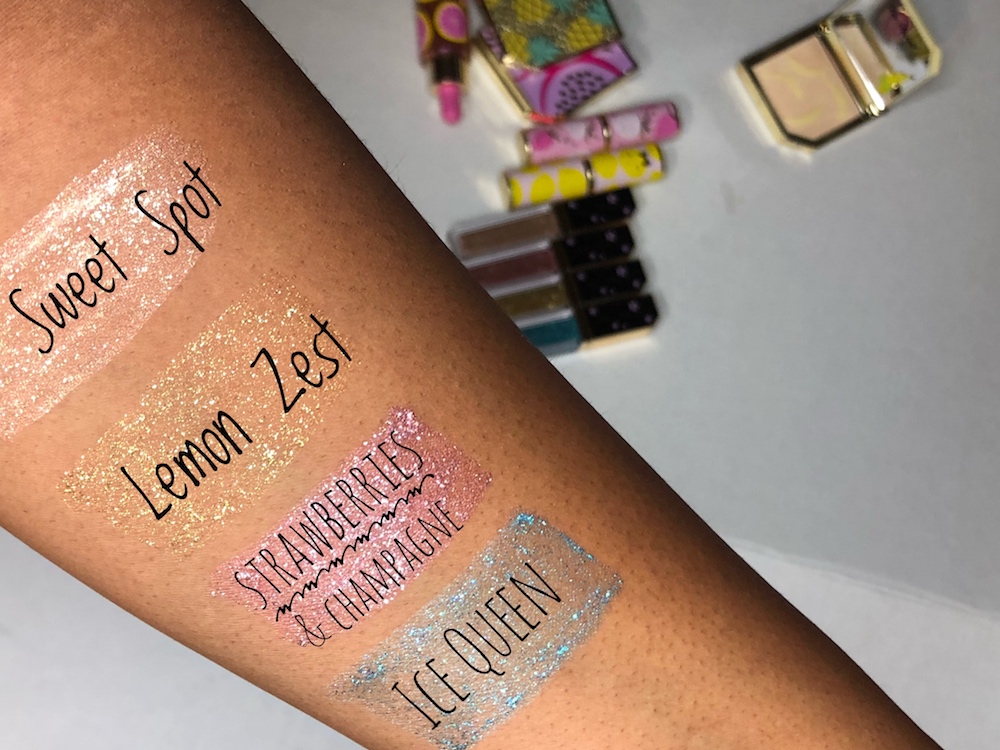 I'm personally not a fan of glitter eyeshadows that aren't loose, but I must admit that these colors are pretty. While I wish they were a bit more opaque, they do work well. They'll definitely add a little glam to your eye looks.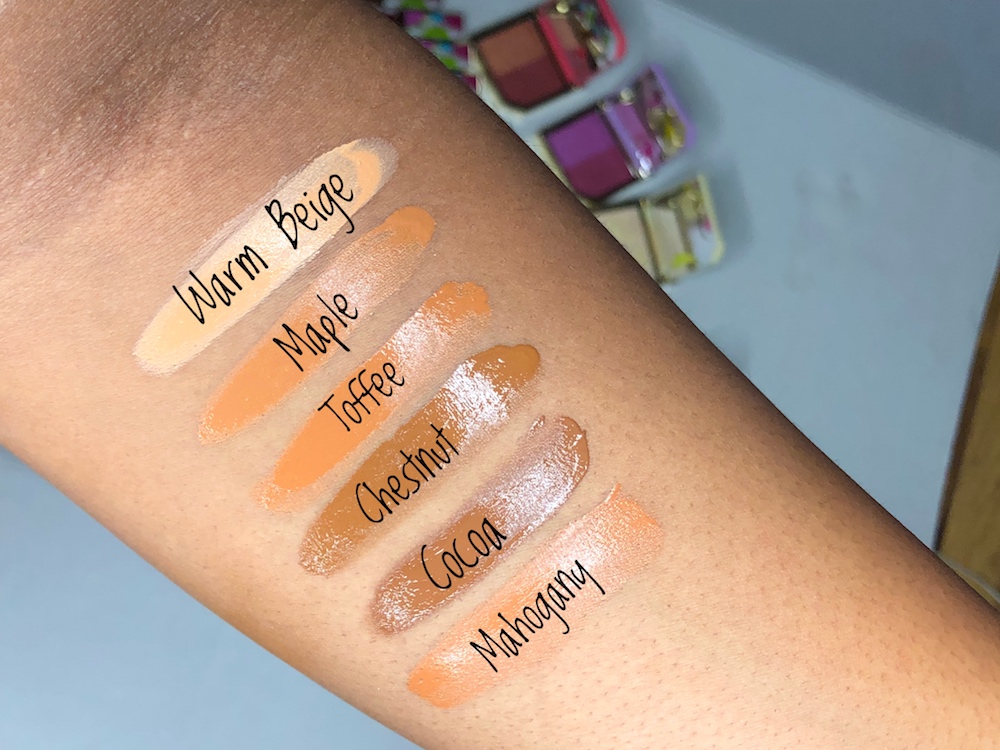 I ended up being the shade Toffee. Compared to Too Faced's Born This Way Foundation, The Dew You Foundation provides a lot more coverage. It also paired nicely with the Born This Way Concealer for highlighting and contouring.
Here's what I looked like with some of the products from the Tutti Frutti Collection:
For this look, I used the Dew You Full-Coverage Fresh Glow Foundation in the shade Toffee, the highlighter/bronzer duo in Pineapple Paradise, the highlighter stick in Strawberry Sparkle, the lip gloss in Grin & Bare It, the glitter shadow in Strawberries & Champagne and the Razzle Dazzle Eyeshadow Palette ($34). I was feeling this purple look and it smelled amazing every step of the way.
My final thoughts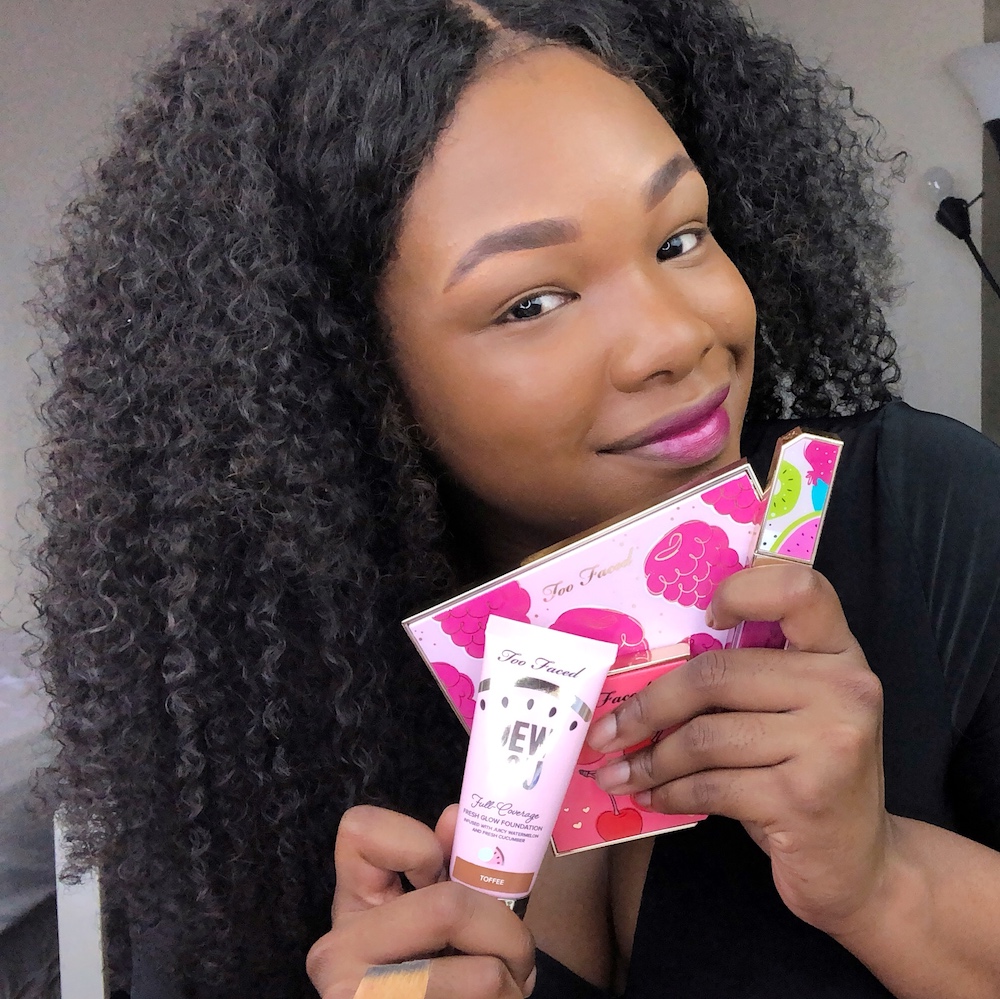 Don't let the packaging fool you. The Too Faced Tutti Frutti collection is sexy, sweet, and everything I could've imagined. Although it brings me back to the scratch and sniff stickers of my childhood, the makeup is well worth the money.
My favorite product of the collection is a tie between the It's Bananas Brightening Powder and the Strobing Bronzer Highlighter Duo in Pineapple Paradise. I love how the brightening powder sets my under-eye without looking cakey or separating my concealer. As for the bronzer/highlighter duo, it allows you to really customize your glow—one shade gives a lit-from-within look while the other gives more of a pop. Layered together, they make you look like a glowing goddess.
If you're planning to buy this collection solely for its scents, know that not all of the products smell like their packages would suggest. For example, I don't like the smell of bananas, so I was happy that the It's Bananas Brightening Powder didn't smell like the fruit. All in all, I'm very pleased with the collection and can't wait to play with it more.
If you would like to check out the collection for yourself, Too Faced Tutti Frutti is still available on the brand's website, Ulta.com and at select Ulta locations.