Too Faced is officially getting into the skin care game, so it's time to break out the champagne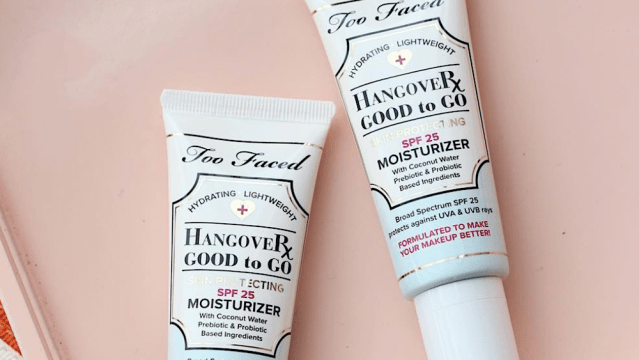 Brace yourselves, Too Faced fans. The brand that brought you such iconic products as Better Than Sex Mascara, kicked off the chocolate and peach-scented products trend, and so, so much more is officially getting into the skin care game.
Co-founder and chief creative officer, Jerrod Blandino, who is known for posting upcoming brand sneak peeks on his Instagram page, posted some major news yesterday.
"Get ready world," wrote Blandino. "Too Faced skincare is coming to cure your complexion hangovers! Formulated to make your makeup better!"
https://www.instagram.com/p/Btw1S55g0iR
The news harkens back to our interview with Blandino in January of 2018, when he told HelloGiggles he was creating products based on his best-selling Hangover collection. At the time Blandino said:
"I'm actually tip-toeing in skin care based on our Hangover line. So taking everything you love about our Hangover primer, and taking all of its skin care-based ingredients, and jumping off and creating some skin care products."
As part of the beloved Too Faced Hangover line, which features a face primer and setting spray, the brand is set to launch a moisturizer called Hangover Good To Go, a lightweight, hydrating cream made with coconut water, prebiotic and probiotic-based ingredients, and broad spectrum SPF 25.
https://www.instagram.com/p/BtpAP3KAWJr
According to Bustle, Blandino posted on his Instagram story saying, ""I absolutely am obsessed with skin care. I take very good care of my skin. It's not about being anti-aging. It's about preserving what you've got and being the best version of yourself and living a healthy lifestyle with incredible ingredients that will help support your skin and make you look and feel your best."
He continued that Too Faced is "starting with the new SPF moisturizer, based on a moisturizer I've been using for nine years that I would get from a different country." Apparently, the Too Faced Hangover Good To Go moisturizer has been in the works for an astounding three years.
There's no word on a launch date yet, but we can't wait to get our hands on this.