Too Faced finally reveals what's inside that beautiful Sweet Peach Glow palette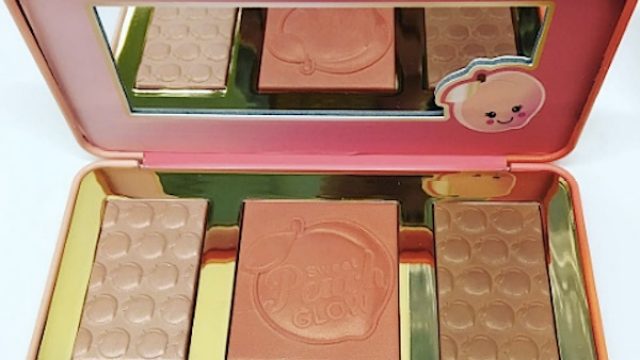 Too Faced Cosmetics has really been stepping up their game this year, having already released the absolutely amazing and to-die-for Christmas in New York collection. So imagine our surprise, and delight, on Friday when co-founder Jerrod Blandino took to Instagram to show us their upcoming addition!
Sweet Peach Glow is a 3-in-1 kit that will satisfy all your cheeky needs this winter!
How adorable is that? Not only is the packaging beautiful, but the kit comes with a highlighter, bronzer, and a peachy blush — what more could you possibly need?
They gave us a sneak peek at the palette back in July, so we're so excited to finally see what was hiding inside.
The highlighter is absolute pearlescent perfection, while the bronzer looks like it'll be super glowy without being too heavy or dark. And is there anything better than a sweet peach blush during the winter months? It'll give us that perfect snowy day glow without actually having to freeze outside to get it!
It goes without saying, Too Faced fans are pretty freaking excited about it.





While the exact date for when this cutie is gonna drop is unknown, it iS going to be sometime in December. In the meantime, we'll be checking Instagram on the daily, just waiting to get our fix! Plus, we're still trying to figure out what this teeny tiny palette is…
We can always count on Too Faced to deliver strong products that get us psyched to try out! We'll just have to bide our time saving our pennies so when the time is right we are ready to pounce!