Too Faced's Pretty Rich collection will make you feel like you're a cast member on Real Housewives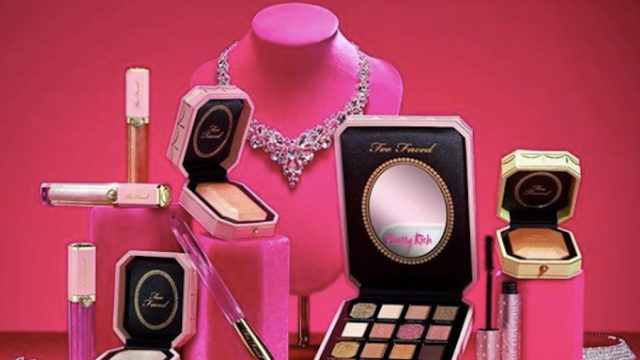 Too Faced's latest collection is all about the glitz and the glam, and we don't mind it. The brand's Pretty Rich collection is far from basic, celebrating the finer things in life with its lavish packaging and dazzling makeup. It's such a luxe line that it will make anyone feel like they're part of the Real Housewives franchise.
"Wear your wealth where everyone can see it—on your face," the brand cheekily wrote in a press release. This is the kind of 'tude and confidence we'll be channeling in the New Year, thank you very much. So if you're the type of person who likes to live large, the brand's newest products are for you.
The Too Faced collection features a luxe eyeshadow palette (with 16 shades), three highlighters (two of which are new), six lip glosses (one shade was created by Jordyn Woods), a Better Than Sex Mascara decorated in diamonds, a highlighter brush, and a silver sequin peel-off mask. You might need to take out your silk hand fan after reading about all of the goodies.
The collection is inspired by diamonds and all that glitters, according to the press release.
https://www.instagram.com/p/BqKvfcDhY0T
The Pretty Rich Diamond Light Eyeshadow Palette ($49) includes a variety of finishes: glitter, shimmer, and matte.
https://www.instagram.com/p/BqLGRmPhqOC
The Diamond Fire Highlighters ($34) are a liquid-to-powder formula that comes in three shade-shifting colors. Even better? The highlighters are infused with real crushed diamond powder and light-reflecting pearls.
https://www.instagram.com/p/BqaxstMgwpV
As for the decadent Rich Lip High-Shine Sparkle Lip Glosses ($21), they have light-reflecting glitters that are also infused with natural oils to keep your lips soft, plump, and hydrated. Kylie Jenner's BFF, Jordyn Woods, created the shade Social Butterfly.
https://www.instagram.com/p/BqQDCEHh9kP
The Better Than Sex Mascara ($24) comes in the same volumizing formula we love, but with glam packaging. It's decked out in diamonds, which is a real treat. The only skin care item in the collection is the Disco Glow Job Mask ($42), which is similar to the pink glitter one that launched last year, except the new one comes in a silver sequin shade.
https://www.instagram.com/p/Bqf6sIhBPnA
The palette and highlighters will be available to purchase on November 29th while the glosses, mascara, and Disco Glow Job mask launches on December 9th. Find these extravagant goodies on Too Faced's website.