This Pomade Pencil Is the Only Product That Gives My Sparse Brows Long-Lasting Definition
Welcome to Game-Changers, a weekly series in which we reveal the holy grail beauty products we're loving now—the ones that saved our hair, cleared our skin, and, in some way, changed our lives.
Some people can swipe on some brow gel and head out the door, but I'm not one of them. I have sparse brows that seem like they want to channel '90s-era pencil styles, but I'm trying to look like Cara Delevingne. Unfortunately, it's not in the cards for me to have similarly bushy brows, but thanks to Too Faced's Pomade in a Pencil, I'm a little closer than I was before. 
Since my brows are naturally thin, I use brow pomades and pencils to give myself a semi-sculpted yet natural look. While there are some great brow pens and pencils, no one single product has helped me achieve my #browgoals and staying power that I want—until I tried this Pomade In A Pencil.
Too Faced Pomade In A Pencil Eyebrow Shaper & Filler
$23
Shop it
Sephora
The name says it all: It's a pomade formula with an innovative easy-to-use pencil. Unlike traditional pot pomades, which are heavily pigmented and can quickly take you from sculpted to Groucho Marx, this pencil is much subtler thanks to its slightly waxier texture. Even if I accidentally apply too much pressure, the line is never harsh.
To use, I first brush through my brows with the attached spoolie, directing the hairs upward so I can see the sparse areas. (Since the product doesn't slip around like a traditional pomade, I don't have to worry about making a smudgy mess.) Then, using a light hand, I draw a thin line under my brows and brush the color up into the hairs for an initial fill-in. Next, I create hair-like strokes. The pencil has an oval-meets-diamond shape, which I typically don't like, but this one has a pointed tip that allows me to create hair-like definition. I then draw a light line from my arch to the tail of my brow for definition, applying more pressure for a deeper color on the end of my brow. Lastly, I give my brows a brush-through and set them with the brand's Brow Wig gel.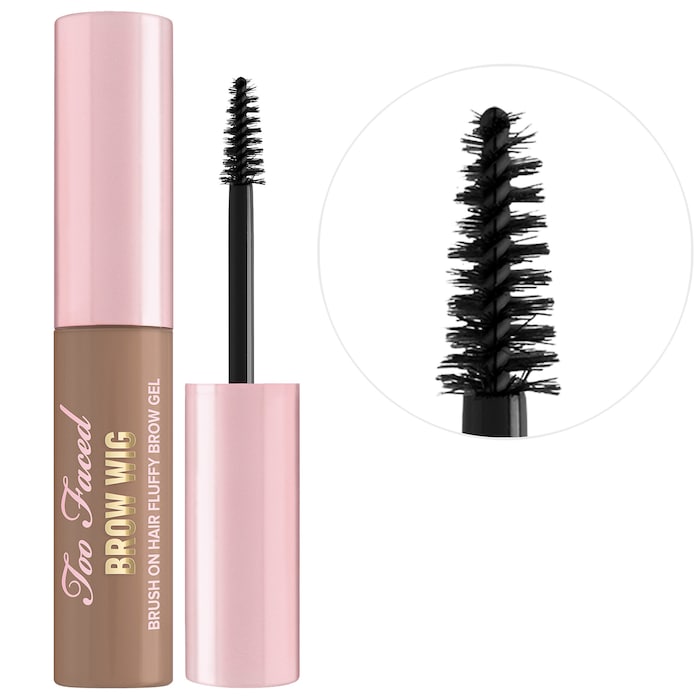 Too Faced Brow Wig Brush on Eyebrow Gel
$23
Shop it
Sephora
Even though I used to be a loyal pot pomade user, I'll admit that they never had the non-smudging power of this Too Faced pencil. Plus, unlike my old method of using both a pomade and a pencil, this all-in-one product makes my brow-filling task quicker and easier.
I no longer worry about looking like I glue two pieces of construction paper over my eyes, and once my brows are set, they don't budge. Even on days where I don't finish my routine with Brow Wig, they stay in place, which is an impressive feat considering I live in the humid South.