Exclusive: Too Faced has new skin care products in the works — inspired by this best-selling product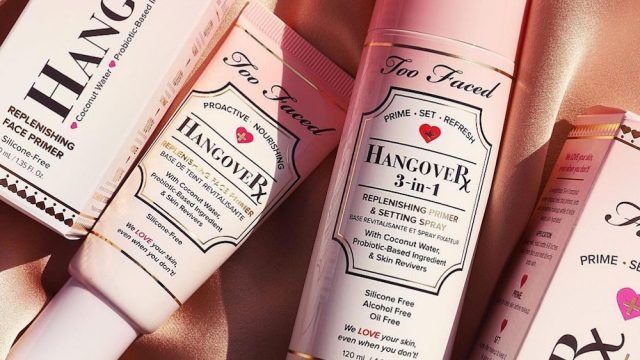 When Too Faced released its first-ever skin care product last December, beauty lovers went wild. The pink peel-off glitter mask, which was cheekily named Glow Job, sold out as soon as it hit online shelves (don't worry, it's back in stock now). It was clear that Too Faced fans loved the brand's exciting foray into skin care. However, it wasn't clear if the brand would come out with more skin care products…until now.
During an interview with Too Faced's Co-Founder and Chief Creative Officer Jerrod Blandino, HelloGiggles got exclusive intel that beauty lovers can expect to shop more skin care inspired by the brand's best-selling Hangover primer.
"I'm actually tip-toeing in skin care based on our Hangover line. So taking everything you love about our Hangover primer, and taking all of its skin care-based ingredients, and jumping off and creating some skin care products," Blandino said.
If you aren't familiar with the two Hangover products, which include the Hangover primer and the Hangover Setting Spray, they are both made with a special blend of coconut water, probiotic-based ingredients, and skin revivers. So it makes sense Too Faced would create a skin care line based on those two products.
While it's not clear how soon we'll be able to shop the brand's upcoming skin care products or if it's going to be a full collection, we know it's definitely coming. Plus, it's going to be good, because Blandino wouldn't have it any other way. "I'm really excited about that since I consider myself a total skin care snob," Blandino told us.
We can't wait to see what Too Faced's new products have in store, for our skin, that is.