Too Faced is coming out with their first-ever setting spray and we are freaking out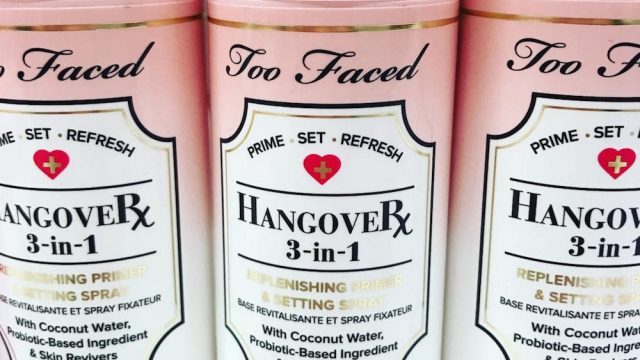 We're still settling down after hearing about Estée Lauder's absolutely gigantic acquisition of Too Faced Cosmetics, but that doesn't mean we aren't ready to hear about all the new upcoming goodies! Lucky for us, Too Faced Co-Founder Jerrod Blandino, teased the latest product — Hangover 3-in-1, which is a priming, refreshing, AND setting spray. We're flipping out because how perfect does that sound?! We love that instead of having three different products — that all do separate things — now we can invest in one high-quality item that will leave us looking as fresh as a daisy, as well as making sure that our makeup stays put! It's imperative!
And of course, this is Too Faced, so you know the bottle is as cute as can be!
So deserving of a spot on our makeup shelves!
We love that it's made with coconut water, which is so good for our insides as well as our outsides! It's also silicone, oil, and alcohol-free, so it won't dry out your skin or leave any questionable residue on it!
The best part about this makeup news? According to our beauty hero, Jerrod, Hangover 3-in-1 is the brand's first-ever setting spray! While it could totally replace a Too Faced staple — the Hangover Rx cream primer — we don't think our fav product is going anywhere just yet. If you look closely at all of the brand's Instagram's about Hangover Rx, it seems like they're just expanding the collection.
We so appreciate Too Faced's commitment to creating products that are good for animals, the environment, and our bodies!
We aren't the only ones excited about this news, his fans are too!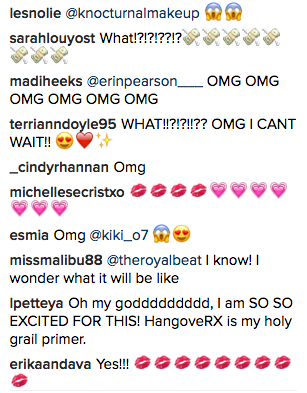 We can't blame them, this is a total game-changer!
We're gonna have to tide ourselves over with all their goodies, like the Funfetti set, until this bad boy comes out, but then you better believe we're going to be scrambling to get our own!
And it's only a matter of time til the Better Together palette makes its way into stores and our clutches!
See? Plenty to keep us occupied until the Hangover 3-in-1 spray is ours, all ours!
Are you just as twitter-pated as we are? Jerrod truly is the gift that keeps on giving, and if products like this are what we can expect from the company's new collaboration with Estée Lauder, we are seriously excited to see what's next!