Too Faced's new collection will get you excited for the holidays, even if it feels so far away
Briefly forget the fact that you've undusted Halloween decorations the second August transitioned to September. And put away those Pumpkin Spice lattes for a fleeting second, OK? Because we have beauty news that will leave you crooning to one of the many Mariah Carey Christmas albums: Too Faced just unveiled a new holiday collection.
We don't care that it's 84 degrees in Los Angeles, damnit. We're adding these new items to our list of must-haves this December. Let us walk you through some of the products shown on the brand's site.

Retailed at $39, this sparkly powder is "infused with a dreamy peaches and cream scent that will keep you glowing all season long," according to Too Faced. The Peach Kiss Moisture Matte Lipstick also looks like the perfect shade to don to those work holiday parties.
Retailed at $69, this five-set mascara bundle will perfectly complement those ugly Christmas sweaters you'll no doubt wear. This set is essentially a year's supply of mascara. And what's more festive than that?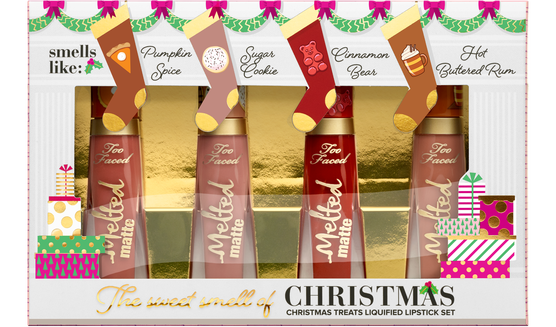 Retailed at $25, this set of matte liquified long-wear lipsticks is sure to win over any holiday grinch. It comes in a set of four, features the shades Cinnamon Bear, Pumpkin Spice, Hot Buttered Rum, and Sugar Cookie.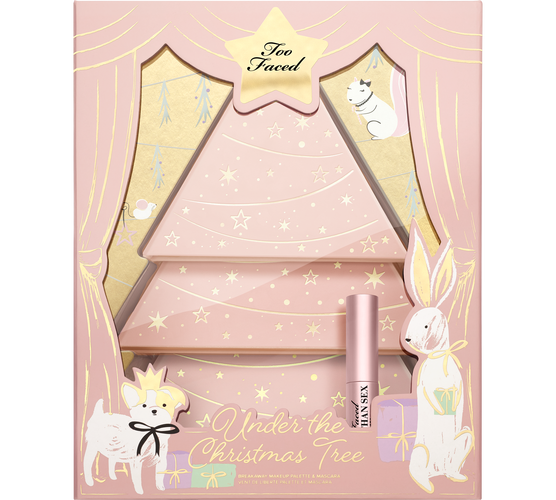 Retailed at $49, this palette features three palettes that form the shape of a Christmas tree. It includes 18 eyeshadows, three face products (bronzer, blush, and highlighter), and a Better Than Sex Mascara.
Of the inspiration behind these products, Too Faced writes: "Too Faced Co-Founder and Chief Creative Officer Jerrod Blandino has peeked into our Christmas fantasies to create the most gorgeous array of nutcracker-esque prints, beautiful winter palettes, and of course, makeup you will love enough to keep for yourself or give as gifts to your most beauty-savvy friends."
You can shop the collection on Too Faced's website, and trust us, there are a ton more products to see. It's like Christmas morning.