Too Faced's new peel-off mask will make your face sparkle like diamonds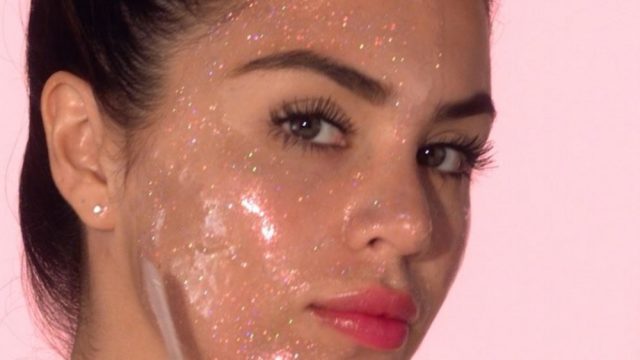 Too Faced has really been killing with the beauty releases lately, as the brand's Chocolate Gold collection totally put us the holiday spirit.
And equally exciting comes Too Faced's new Glow Job Peel-Off Mask, which will make you sparkle like a diamond this holiday season.
Too Faced Co-Founder and Chief Creative Officer, Jerrod Blandino, gave us a closer look at the new sparkly peel-off mask named Glow Job on Instagram, and from what we can tell it is sure to take masking to a whole new level.
Made with real shimmering gold, it's safe to say that this peel-off mask (set to launch this December) is a glitter lover's dream. It treats your face to thousands of gorgeous pink sparkles you won't be able to resist sharing on Instagram.
Even the packaging of the new Too Faced Glow Job Peel-Off Mask looks really special, since the glittery pink box looks too pretty to even open.
And with a cheeky "Give Yourself A Glow Job" slogan on the top of the box, we're hoping the brand will release other mask shades in the near future.
The mask formula is practically hypnotizing to look at, as the dazzling goo of pink sparkles is truly hooks you in.
And with a fun mask name like Pink Tiara, we're super excited for whatever peel-off masks Too Faced has in store.
To apply on the mask correctly, Too Faced recommends applying it onto clean skin (using the mask spatula) for 30 minutes. And once the mask is completely dry, simply peel it off to reveal soft, smooth, and makeup-ready skin.
Although the new Too Faced Glow Job Peel-Off Mask is set to release this December, we can't wait to see what other products the brand has in store.