We're going gaga over these swatches of Too Faced's Glitter Bomb eyeshadow palette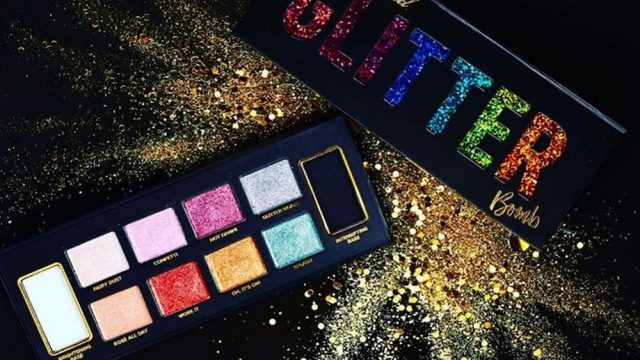 When Jerrod Blandino and Co. decide to blow our minds with a new product, they go big — as is evidenced by swatches of Too Faced's new Glitter Bomb eyeshadow palette. The glimmering, glittery shades are so intensely vibrant, it's almost shocking. We can't wait to knock everyone's socks off when we use it.
The glitter makeup moment is not going anywhere, so we're thrilled to see that all our favorite brands are embracing it and developing creative and high-quality products that will make us shine. Everyone wants to have a little fun with their makeup and experiment with new looks, and this palette will help us do just that.
The Too Faced Glitter Bomb palette will be available on June 17th for $45.
https://www.instagram.com/p/BSeBoufAIH8
Get a load of how rich all those shades are. They're made even more impactful thanks to the white and black shadows you can layer on underneath for a different effect. The white will make shades look brighter, and the black will give you a more intense, glittery smoky eye.
https://www.instagram.com/p/BTqA70OF28T
This intense pop of glitter is totally multifaceted and can be worn alone, wet for a mermaid-scale look, or on top of the black or white matte powder bases.
https://www.instagram.com/p/BSEvDowAnWU
We are already having visions of ourselves decked out in pink, glittery eyeshadow all summer long. You can count on us to be layering the Rose All Day and Work It shades over the brightening base for a pink explosion.
We don't have much longer to wait until this gorgeous palette is released and we look like glitter queens all summer long. Do you have ideas for color combinations already? The sky is seriously the limit with these options!