Gasp: Too Faced dropped their Bite Sized Beauties Set at Sephora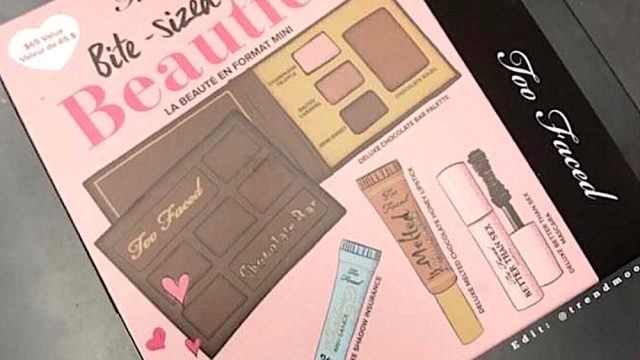 One of the many, many amazing reasons to love Sephora (aside from the fact that they are literally our saviors) is their insanely awesome rewards program for Beauty Insiders. As if that alone wasn't amazing enough, Too Faced has surprised us all by dropping their Bite Sized Beauties Set! The set is valued at 500 points, so for those of us who have been hoarding, now is the time to use them up!
Is there anything better than rolling up to the register, hearing how many points we have, and picking out some goodies to take home with us for free? We think not, and this set really makes it that much more exciting.
The Bite Sized Beauties Set is available now online and in-stores, so you can get your booty over there now and pick them up!
Aren't they simply precious?
Here's what you'll be getting in the Bite Sized Beauty Set: Deluxe Chocolate Bar palette, a mini palette with three eyeshadow shades: Champagne Truffle, Salted Caramel, Semi Sweet, as well as a bronzer in Chocolate Soleil. Mini Better Than Sex Mascara. Mini Melted Chocolate in Honey. And a Mini Shadow Insurance primer.
That's a pretty sweet deal if you ask us! We are obsessed with all of Too Faced's minis, and these are pretty much some of the best of the bunch!
Now the question is, what'll you stock up on in your quest to get those 500 points if you don't have them already? Luckily, there's plenty of Too Faced products at your friendly neighborhood Sephora to throw in your shopping bag to get you there!
How about some beautiful Born This Way concealer for $28?
Okay, since we're here we might as well grab a Sweet Peach Glow palette, $42.
Have we gotten to 500 points yet?
Make sure to pop over to Sephora and splurge on your own! We have a feeling you won't regret using your points up on these beautiful minis.