Too Faced's deliciously sweet Chocolate Gold Bar palette is here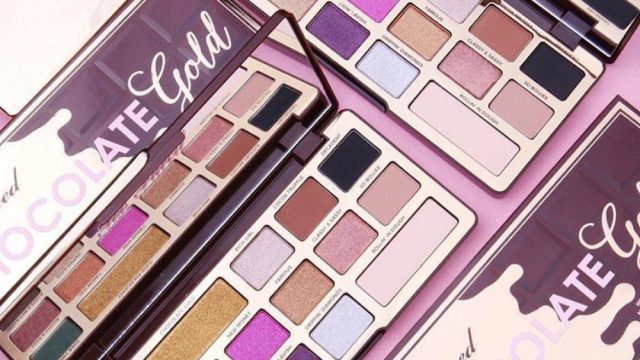 After months of speculation and weeks of anticipation, the Too Faced Chocolate Gold Bar collection has launched, or at least, the first component is now available.
That's good enough to keep us sated until the entire Chocolate Gold collection drops.
Beginning today, you can get your hands on the stunning Chocolate Gold Bar palette for a sumptuous feast of gilded eyeshadow options.
When all is said and done, there will be six products in the collection. It will include the Chocolate Gold Bronzer, a cocoa-infused bronzer created with real gold; the Diamond Light Highlighter, infused with crushed diamond powder and light reflecting pearls; Glitter Pop Eyeliner, a peel-off glitter liner in multiple shades; Melted Gold Lip Gloss, an epic, buildable glitter lip infused with gold; and Pure Gold, an ultra-fine face and body glitter.
With the exception of the palette, which is out today, the full collection will be launching in mid-December on Too Faced's site, Sephora, and Ulta, so keep your eyes peeled for that.
But let's get back to this glorious new palette since it's here for our use.
Aside from the fact that the packaging is enough to get us drooling and will look stunning in our vanities, the actual shades are to-die-for.
The Too Faced Chocolate Gold Bar Palette retails for $49.
These hues are up there with the most luxurious hues we've ever seen.
This gold and cocoa powder-infused eyeshadow palette is filled with foiled shades that are created with real gold for an epic high shine finish. All the shadows have a soft, velvety texture with an insanely saturated high color payoff.
Not only is there actual real cocoa powder and gold in the palette, but it smells just as delectable as the rest of Too Faced's chocolate palettes as well.
There are 16 dreamy shades in Too Faced's Chocolate Gold Bar Palette to mix-and-match no matter what the occasion.
We can't wait to get our hands on these beautiful eyeshadows. Whether you need a simple, romantic look for your afternoon coffee date or want to glam it up at your holiday party, this palette has you covered.
Head on over to Too Faced and pick the palette up for yourself.