Too Faced's iconic Better Than Sex Mascara has a G-rated name in Saudi Arabia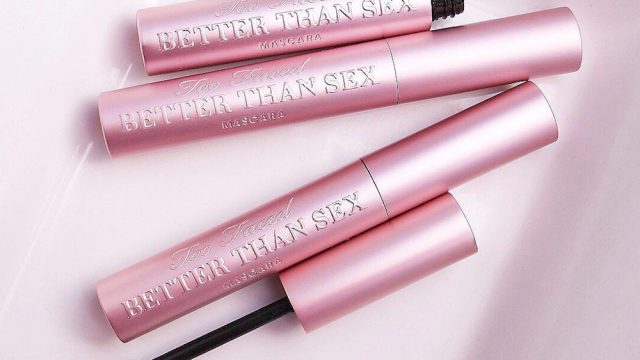 If you've ever wondered what socially conservative countries do with the more, shall we say, risqué names that beauty products are often called, you finally have your answer. PopSugar found a thread on Reddit featuring a photo of one of Too Faced's most popular products showing off its new Saudi Arabia-approved name.
The hilariously-monikered "Better Than Love" mascara has been cracking up beauty Reddit since it was posted just a few days ago, and we can't help but have a chuckle over this attempt to sanitize the mascara's original name, Better Than Sex.
There's something sweetly innocent about the new name, but when you really stop to think about the reasons for the censoring it, it's enough to get our blood boiling. What might be a funny, eye-roll inducing change to us is a symbol of the oppressive systems in which women live in other parts of the world.
What's your take on this one?
Redditor L0571 posted the photo of the newly named Too Faced Better Than Sex Mascara, prompting other users to share similar name changes.
Other posters chimed in with their own versions of censorship. Obviously, NARS' seductively named products posed a problem. User merylbeep mentioned that NARS Orgasm is just called O. It would appear that the solution is often just to use single letters when renaming products. Redditor shittyketo added that Super Orgasm was changed to SO, Seduction has been renamed SED, and Deep Throat is DT.
Okay then.
But it's not just socially conservative countries that change makeup names occasionally. Redditor WrathofEden pointed out that in France, BECCA's Champagne Pop highlighter was changed to C-Pop because the name "Champagne" is protected there. Only sparkling wine produced in the French region of Champagne can bear that moniker, thanks to strict laws imposed by the Champagne lobby and French government.
Head on over to Reddit to see it all go down for yourself.