Tonya Harding saw "I, Tonya" and very much enjoyed Margot Robbie's amateur skating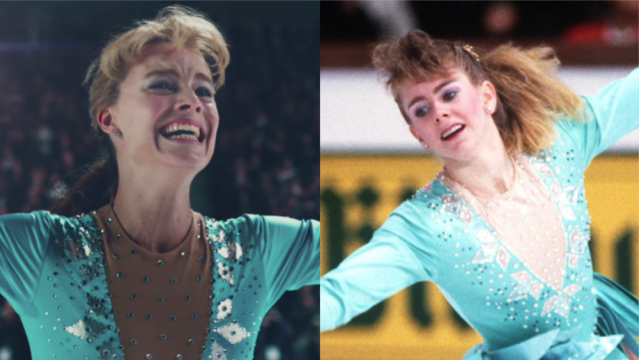 While the events that inspired I, Tonya are nearly 24 years old, they remain just as shocking and controversial today, making the film one of the most highly anticipated of the year. And it turns out Tonya Harding — the disgraced figure skater at the center of the story — is a fan of the film, too.
In 1994, U.S. figure skater (and Harding competitor) Nancy Kerrigan was hit in the knee with a baton as she walked down a hallway at the U.S. Figure Skating Championships in Detroit. In the aftermath, it was revealed that Kerrigan's assailant, Shane Stant, and the getaway driver, Derrick Smith, were hired by Harding's ex-husband Jeff Gillooly and his friend/Harding's bodyguard, Shawn Eckhardt.
While Tonya Harding is widely believed to have been involved in planning Kerrigan's attack, she was never convicted of any involvement but was prosecuted for hindering the police investigation — effectively ending her career as a figure skater.
The event is one of the most bizarre in sports history, so it's no surprise that everyone is dying to know what the film's subjects — particularly Harding and Gillooly (played by Sebastian Stan) — think of I, Tonya. 
https://www.youtube.com/watch?v=OXZQ5DfSAAc?feature=oembed
Commenting on how difficult it must be to allow people to make a film about you, Robbie told IMDb that Harding was very cooperative with the cast and crew, adding that the former skater liked the final product of the film.
"She was so gracious, she was amazing about [seeing the film]," Robbie said. "Really, really amazing. She was very complimentary about what we pulled off, and she was really kind about my skating even though I'm nowhere near as good as I should be. Yeah, she was great."
The film certainly shows a more sympathetic side to Harding than the 1994 media did, focusing on her troubled upbringing with an abusive mom (played by Allison Janney), her tumultuous marriage to Gillooly, and her quest for stardom.
But while Tonya Harding was an overall fan of the film, I, Tonya writer Steven Rogers revealed to The Hollywood Reporter that the former figure skater didn't agree with everything in it. He said, "She said she laughed, she said she cried, she said she loved Margot and Allison, and she said there are things she didn't like about it. But she emailed me twice to thank me."
I, Tonya opens in theaters on December 8th.