Tonya Harding actually offered to teach Margot Robbie how to skate for "I, Tonya"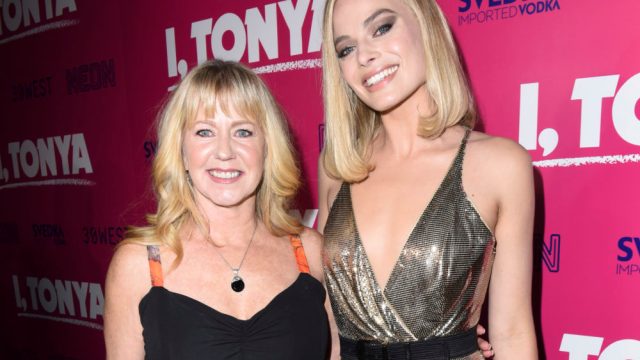 Between embodying Harley Quinn and playing a war-zone TV journalist, Margot Robbie's done a little bit of everything. Figure skating, though, had never been one of her strengths. She made it work anyway and earned a Golden Globe nomination for her starring role as Tonya Harding in I, Tonya. But it turns out Robbie's toe loops and axels could have been even more impressive.
Harding sat down with her on-screen counterpart for a conversation published in The Hollywood Reporter that covered everything from Harding's hesitation to sign off on the movie about her infamous life to her 6-year-old son's favorite video games. The private skating lesson that could've happened came up the first time Harding and Robbie met, just before filming was set to start on I, Tonya.
As the story goes, Harding and director Craig Gillespie met Harding for lunch in Portland, and Robbie happened to mention to Harding how challenging she found skating to be:
"I don't know if you remember, but I was saying how [the skating part] is really hard, and you said, 'Do you have your skates with you? We can go to this rink, I can train you.' Also, you asked how was I dealing with fame at a young age, which I thought was a very kind thing. I was like, 'I can't believe she's worrying about me.' "
From the rest of the interview, it doesn't sound like Robbie ever actually took Harding up on her offer but that didn't stop Robbie from wowing audiences and her real-life counterpart. Robbie previously told IMDB that Harding was "amazing" and "really kind" about her skating in the movie, even though she dubbed herself "nowhere near as good as [she] should be." Of course, as good as she *should* be playing Harding would be a seriously difficult feat, even if she'd had those lessons.
In her prime in the '90s, Harding was a stunning talent. She was the first American woman to land the coveted triple axel, for example, earning her a perfect 6.0 score at the 1991 U.S. Championships. But, her career as a professional figure skater came to an end following the shocking 1994 attack against rival Nancy Kerrigan.
Harding also revealed in the interview that she'd recently returned to the rink herself — she'll be skating for an audience later this month at Rockefeller Center — and that she's determined to complete a triple axel again. We'll see if Margot will be there cheering Tonya Harding on when it happens.