7 Toni Morrison quotes that taught us how to live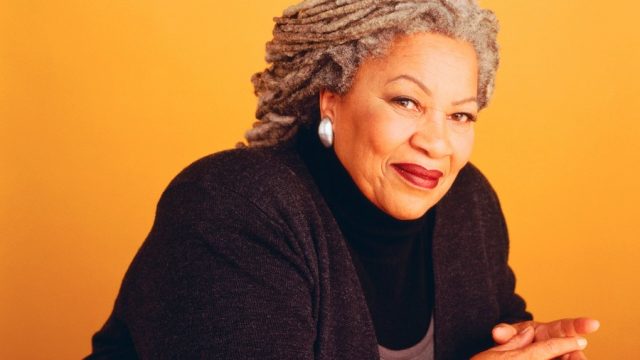 Toni Morrison is considered one of America's greatest writers, and as a black author in particular, she has broken so many barriers. We're sad to report that she passed away last night, August 5th, according to CBS News. She was 88 years old. The novelist had a decades-long career that included the books The Bluest Eye, Beloved, and Song of Solomon. In 1993, she became the first black writer to win the Nobel Prize, and in 2012, President Barack Obama awarded her a Presidential Medal of Freedom. A collection of her essays and speeches was released in February and was among the most anticipated books of 2019.
Morrison's family issued a statement to CBS News via the author's publisher, Knopf.
"It is with profound sadness we share that, following a short illness, our adored mother and grandmother, Toni Morrison, passed away peacefully last night surrounded by family and friends," their statement reads. "She was an extremely devoted mother, grandmother, and aunt who reveled in being with her family and friends. The consummate writer who treasured the written word, whether her own, her students or others, she read voraciously and was most at home when writing. Although her passing represents a tremendous loss, we are grateful she had a long, well lived life."
The family also thanked Morrison's fans and supporters, and requested privacy while they mourned.
In honor of Morrison's life, we're looking back at some of her most profound  quotes.
1 "We die. That may be the meaning of life. But we do language. That may be the measure of our lives."
This line from Morrison's 1993 Nobel Lecture captures the importance of writing and language.
2 "The theme you choose may change or simply elude you but being your own story means you can always choose the tone. It also means that you can invent the language to say who you are and what you mean."
Morrison shared these words of wisdom while giving the 2004 commencement address at Wellesley College.
https://www.youtube.com/watch?v=SAJH03U7aHM
3 "No one ever talks about the moment you found that you were white. Or the moment you found out you were black. That's a profound revelation. The minute you find that out, something happens. You have to renegotiate everything."
In a 1998 interview with Salon, Morrison argued that it was a mistake for the field of psychiatry not to consider race. In this quote, she talks about how everything changes once you become aware of your own race.
4 "Definitions belong to the definers, not the defined."
This quote comes from Morrison's 1987 novel Beloved.
5 "I can accept the labels because being a black woman writer is not a shallow place but a rich place to write from. It doesn't limit my imagination; it expands it. It's richer than being a white male writer because I know more and I've experienced more."
Speaking with the New Yorkerin 2003, Morrison explained why she didn't mind being referred to as a black woman writer.
6 "I tell my students 'When you get these jobs that you have been so brilliantly trained for, just remember that your real job is that if you are free, you need to free somebody else. If you have some power, then your job is to empower somebody else. This is not just a grab-bag candy game.'"
Morrison said this in a 2003 interview with Oprah Magazine. This powerful quote speaks to the necessity of lifting up others.
7 "This is precisely the time when artists go to work. There is no time for despair, no place for self-pity, no need for silence, no room for fear. We speak, we write, we do language. That is how civilizations heal."
In a 2015 op-ed for The Nation, Morrison wrote about the importance of art during times of conflict. Her essay may have been published four years ago, but these words remain especially relevant today.
Morrison's work was moving, influential, and her legacy will undoubtedly live on. We'll be reading her words today, and we're sending love to her friends and family at this time.