Tom Holland wanted a ~steamy~ sex scene in "Spider-Man: Homecoming," and Aunt May would so NOT approve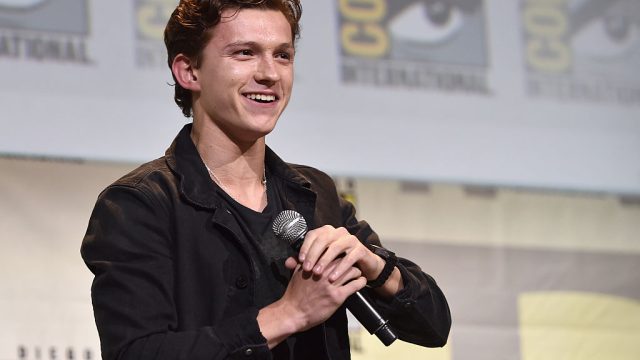 If you still haven't seen the fantastic Marvel film that is Spider-Man: Homecoming, what are you waiting for? It features an adorkable (I'm reviving the word for this use only) Peter Parker struggling with high school and superheroic duties, Tony Stark working to be a father figure to fifteen-year-old Peter, and some pretty badass action sequences.
But there's one thing you *won't* find in Spider-Man: Homecoming — a "passionate" sex scene.
According to Tom Holland, it wasn't for a lack of trying on his part.
During a recent interview with Capital FM's Roman Kemp, the Homecoming star admitted that he pitched a lot of ideas to Marvel that didn't make it in the final cut, including a passionate sex scene.
"I was like, 'We should have a really passionate sex scene,' and they were like, 'No, I don't think so,'" Holland joked to Kemp, who couldn't resist getting in on the bit. "Fully nude, and I am method, you know. It's the only way.
Holland told the radio host that despite not loving all of his ideas, Marvel and Homecoming director Jon Watts were incredibly receptive to his ideas — something The Lost City of Z actor was incredibly grateful for.
"I've always wanted to be in a movie where I could collaborate with the directors and producers to bring ideas to the table. I'm just lucky that I had the opportunity with this movie, said Holland. "I was writing scenes and writing ideas and making set pieces and just sending them off to Marvel. A lot of them, they were like, 'No, that's a terrible idea.' But a couple they did take and put in the movie.
We absolutely loved Homecoming and Holland as Peter Parker. With the upcoming Avengers: Infinity War and sequel film on the horizon, we'll be seeing a lot more of Holland as the teen superhero in the near future. Maybe ones of these days Holland will get lucky and see his steamy sex scene in another Spider-Man film.