Tom Holland has praised the inclusivity of "Spider-Man: Homecoming"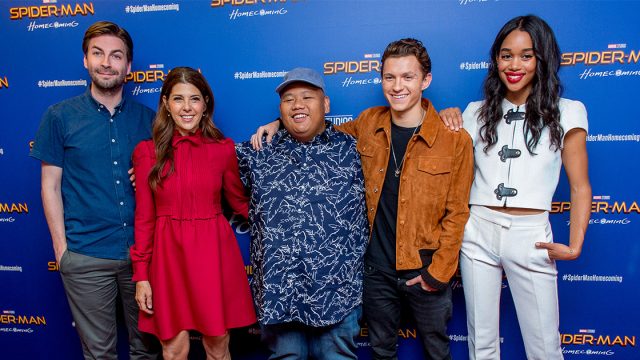 Our newest Peter Parker, Tom Holland, has praised Spider-Man: Homecoming for its diversity, and we couldn't agree with him more.
Based on its early reviews, the new Spider-Man installment is going to be one for the books. Critics seem to love the high-school-focused Marvel movie, and the film looks set to debut at the top of the box office (Entertainment Weekly reports that Sony Pictures expects it to earn a respectable $80 million during opening weekend).
One thing we're excited to see is how the film seems to be subverting superhero movie tropes — for example, by portraying a realistic high-school experience and promoting a message of being true to yourself.
https://www.youtube.com/watch?v=U0D3AOldjMU?feature=oembed
Another way Spider-Man: Homecoming is breaking ground is with its inclusive cast, something that Tom Holland, the film's star, thinks is rad.
In a new interview with Chica, the British actor said it was an "honor" to be part of the inclusive movie.
"Jon [Watts, Spider-Man: Homecoming's director] is sort of breaking the rules and doing what he should be doing and what the rest of the industry should be doing, he said. "He cast this movie based on who was best for the role rather than where they're from or what they look like."
Homecoming does indeed boast a diverse cast, including Laura Harrier, Zendaya, Selenis Leyva, Donald Glover, Garcelle Beauvais, Jacon Batalon, and Tony Revolori.
"I think the fact that he did that really paves the way for future movies," Holland added.
In the same interview, Zendaya, Harrier, and Batalon all echoed this sentiment, saying, "That's the way it should be," and "It's about time!"
Tom Holland's comments come after the movie's producer Amy Pascal also shared her thoughts on the film's inclusivity.
Speaking at a press conference, Pascal was asked what the inspiration was behind casting a diverse group of people to star in Homecoming, to which she simply said, "I would say the inspiration for it was reality." 
At the same conference, Tony Revolori, who plays Spider-Man stalwart character Flash Thompson, was asked how it felt to represent the Latinx community in such a big blockbuster.
"It's wonderful," he said. "When you see the film, there's not a single line of exposition as to explain why I look the way I look, and I think that's wonderful. That I just am in the movie; it's not about a certain race, it's not about doing anything. I think that's the diversity we need in Hollywood now."
While Spider-Man: Homecoming still has a Caucasian actor as its lead, it certainly represents a step in the right direction for diversity, especially in such a big-budget Hollywood blockbuster, and it's made us even more excited to see the movie.
Spider-Man: Homecoming is out in theaters TODAY.