Tom Holland gave his brother a quarantine haircut on Instagram Live, and LOL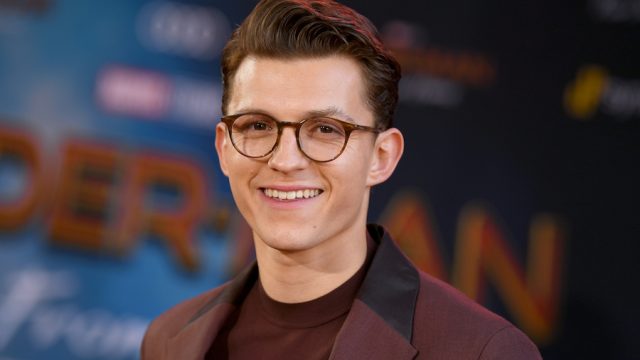 Many of us are long overdue for a haircut at this point in quarantine, and instead of waiting for salons to reopen, Tom Holland decided to create one inside his one home. The Marvel star took on the role of hairdresser and gave his little brother Harry a haircut.
That's not all, though, Holland did so with a live audience and a beer in his hand—and we loved every minute of the chaotic, high-stakes entertainment.
Not to worry, the boys weren't completely on their own. Celebrity hairstylist and Holland's personal groomer, Christine Nelli, joined the Instagram Live to coach the rookie through every step, using a mannequin head on her end for demonstration. It's important to mention here, that Holland also had two more friends hanging around, so Nelli had to try to facilitate a haircut through a livestream with four young men (some who were drinking) on the other end. As you can imagine, things got a little rowdy.
At one point, Nelli tells Holland to wet his brother's hair. Taking instruction and asking for no further specifics, Holland proceeds to pour a full glass of water over Harry's head and, from his reaction, it didn't seem like a very pleasant experience. You can watch this go down below.
Nelli continued her lesson patiently, demonstrating a flick-of-the-wrist technique with the trimmers. As Holland tried to recreate the action on his end, Harry cringed and let out some concerning sounds of pain.
https://twitter.com/udfredirect/status/1265727210947665925
Surprisingly, though, it all turned out pretty much okay and Harry seemed pleased with the final result.
https://www.instagram.com/p/CAtF4BMnrkM
Nelli commented on the post, applauding the boys for their work. "Omg you and @tomholland2013 killed it – so proud," she wrote.
Our favorite part from the livestream, though, was when one of the boys offered to cut Holland's hair. To this, he replied: "You can't, it's not my hair. It belongs to Sony."