Tom Hanks sent a fan a typewriter, proving yet again he's everyone's favorite dad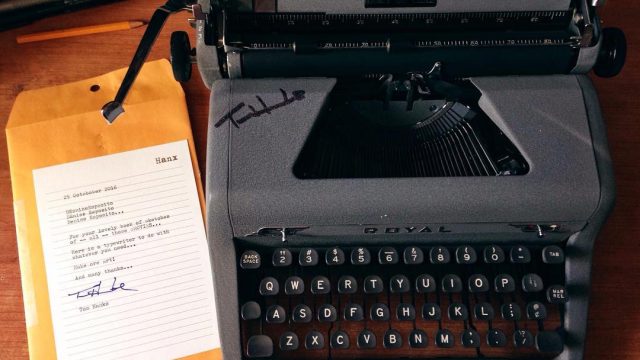 The ultra talented artist Denise Esposito just received the most jaw-dropping gift from Tom Hanks — a gorgeous typewriter signed by Tom himself, along with a heartfelt thank you note. In October at the Rome Film Festival, Denise proved her ultimate fan status by sending Tom a Moleskine sketchbook that was full of her drawings of his most famous film characters. When you see how talented she is, you'll wonder why she didn't get that typewriter in the mail any sooner.
From Forrest Gump to Toy Story's Woody, Denise sketched beautiful images of Tom throughout his career, and it's a beautiful thing to behold. Soon after, she got a call informing her that Tom loved her gift, and he wanted to meet her. "I couldn't believe it and nearly started to cry," she tells LAist.
"Dreams come true! Thanks @tomhanks for being such a wonderful guy!"
That wasn't the end of the good news, though. A package showed up at her doorstep a few days ago, containing a thoughtful present from Tom, who has been a fan of typewriters for ages.
"How amazing life is when your favorite actor sends you a typewriter and a thank you letter? How unbelievably cool is that? I can't stop staring at all of this. When a gesture is worth a thousand words.. and this man really left me speechless…"
We're pretty speechless, too. If Tom Hanks weren't the most accessible, relatable actor in Hollywood before, he just rose to the top of the list. In the letter, he encouraged Denise to keep making art. And we really hope she does.