Tom Hanks and John Mayer's ode to the typewriter in the "California Typewriter" trailer will have your fingers itching for an old-timey keyboard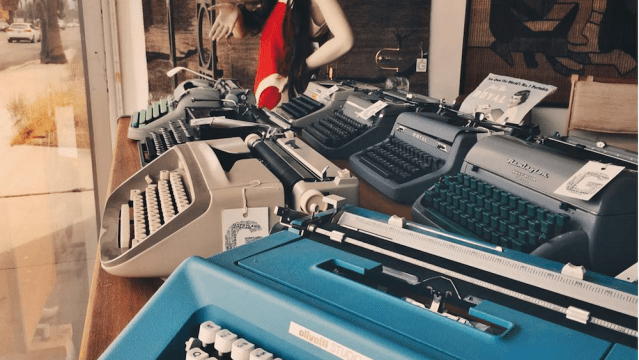 Who knew we could get so excited for a movie about typewriters? This trailer for the new documentary California Typewriter is going to get you so jazzed, you're going to head straight to the thrift store.
The Typewriter trailer features celebs like Tom Hanks and John Mayer talking about their love for the older technology. According to the film's website, California Typewriter "is a documentary portrait of artists, writers, and collectors who remain steadfastly loyal to the typewriter as a tool and muse, featuring [Hanks, Mayer,] David McCullough, Sam Shepard, and others."
We can get on board with anything that both Tom Hanks and John Mayer love.
And they definitely loved their typewriters. In the video, the stars talk about their adoration for the old writing instrument, and we can't help but be moved. It looks like a sweet love letter to the typewriter, and we're here for all of it.
https://www.youtube.com/watch?v=AgJ3kSOHMiU?feature=oembed
The movie is meant to capture the magic of a time long passed, and it looks fascinating.
https://www.instagram.com/p/BU5hlDvl9VW
California Typewriter documents the struggle of the repair shop in Berkeley, California of the same name. According to the Hollywood Reporter review from a writer who saw it in Telluride, it also focuses on the store owners themselves.
"The main heroes of the doc are probably Herbert Permillion III and his family members, who own and manage California Typewriter. This is a small African-American business that cares about its few employees, and although Herb toyed with the idea of closing the store after his 70th birthday, it remains open for now, and his son continues to work alongside him."
Although this sounds like pretty heavy stuff, it doesn't feel like eating your veggies.
It's a sweet tribute to our history. Through the lens of the typewriter and this quaint little shop, Director Doug Nichols captures the love of this community. It's filled with folks who love the clatter of an old-timey typewriter and want to celebrate it's contribution. The movie features aficionados, artists, celebrities, and writers, all professing their devotion to the machine.
In a world overrun with iPads, emojis and virtual reality, this is a soothing throwback to simpler time. Wee just might have to invest in a typewriter of our own.