Tom Hanks helped a stranger propose to his girlfriend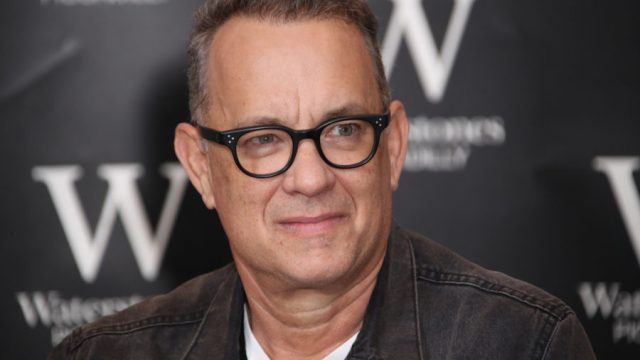 Having starred in some of the best romance flicks of all time — You've Got Mail, Sleepless in Seattle, and Splash to name just a few — Tom Hanks knows a thing or two about wooing a lady. And while promoting his new book Uncommon Type at the Texas Book Festival,Hanks actually helped a guy propose to his girlfriend.
Hanks was in the midst of answering fan questions about his collection of short fiction stories at the Austin-based festival when he claimed he was "bored" being asked questions and wanted to ask one of his own. He then pulled out a piece of paper, and announced that a man named Ryan McFarling would like to ask his girlfriend a question.
"Nikki, will you marry me?" Hanks asked in lieu of McFarling.
A photographer with the Texas Book Festival captured the moment when Nikki Young realized the question was for her. She looked utterly shocked, and once she said 'yes,' she and McFarling joined Hanks onstage to take a photo.
Okay, this seals the deal. Tom Hanks is seriously the coolest guy in Hollywood. And McFarling is the coolest guy in Texas for thinking to propose to his girlfriend via Tom Hanks.
The Texas Book Festival tweeted out the surprise proposal and the photos are making us weepy-eyed.
Perhaps Hanks will work this experience into a future novel. His first set of seventeen short stories revolve around empathy and, "a decidedly benign, humane view of people and their foibles," as NPR described.
Each story in Uncommon Type is strung to the next with the symbolism of an antique typewriter. Hanks is an avid collector and worked a typewriter into each plot line.
Congratulations to the couple. Maybe, just maybe, if you ask in advance, Hanks will officiate the wedding!