Tom Hanks totally crashed this couple's wedding, stuck around to take selfies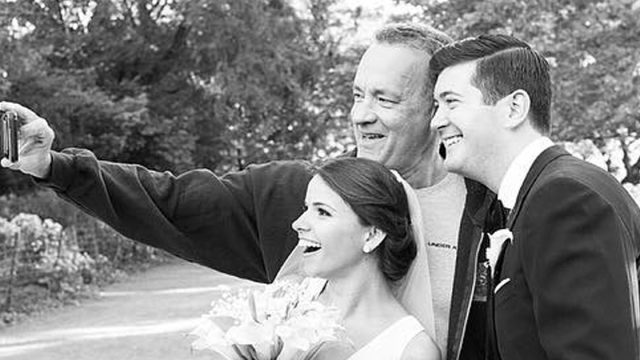 Tom Hanks is not only one of our most beloved movie stars, but the veteran actor is also a total legend. The star regularly crops up doing hilarious things, like stopping interviews to gush about his favorite new film or to have a Pixar-off with Ellen DeGeneres.
Tom Hanks is also pretty sweet, too. Remember last year when he took to Twitter to help reunite a girl with her lost college ID?
SO. SWEET.
Well, it seems that Tom Hanks has been at it again.
Over the weekend, Elizabeth and Ryan were celebrating the most important and wonderful day of their lives: the pair were getting married in Central Park.
Their photographer, Meg Miller, was taking some wonderful snaps of the happy couple, when they were interrupted by a very famous face.
Tom Hanks, who was out for a jog, had seen the pair and decided that he just had to get in on the photo magic.
Talking to Cosmopolitan, Miller explained how Tom was just running passed when he stopped and introduced himself.
"He asked their names and said 'let's take a selfie,'" Miller told the magazine. "He shook the groom's hand, kissed the bride's hand, and posed for photos."
Apparently, Tom even suggested that he would have been available to officiate their pairs nuptials. IMAGINE BEING MARRIED BY THE TOM HANKS. We're not sure we'd be able to handle it.
Anyway, the pictures from the event look pretty wonderful.
false
Just look how happy both Elizabeth and Ryan are!
"Yesterday's wedding was so beautiful! Elisabeth and Ryan you planned one amazing celebration. The icing on the cake was @tomhanks stopping in Central Park to wish them congratulations," Miller wrote under the picture.
Okay, someone let us know how we get in touch with Tom Hanks because we NEED him to officiate our wedding.