9 of Tom Hanks' best roles, and we've got a friend in all of them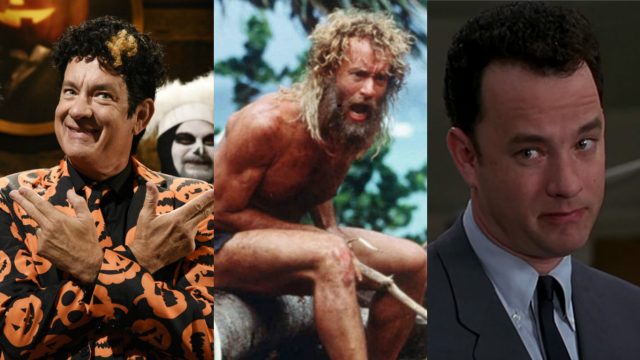 If it's July 9th, you know what that means: It's time to celebrate Tom Hanks' birthday.
Tom Hanks, America's dad, turns 62 today, and I know how I'm partying (by watching his son, Colin Hanks, in the movie Orange County, the most important film of the 2000s and possibly ever). In addition to being a back-to-back Academy Award winner for Best Actor, Hanks is a director and producer, and officially joined the Saturday Night Live five timers' club before I was even born. Not much before, but still.
Every day is a good day to appreciate Tom Hanks, but on this — his 62nd birthday — let's take a look at some of his best roles.
Toy Story
[*banging cymbals together*] Tom Hanks as Woody in Toy Story is the most legendary film role of all time. All time! Honestly, what would anxious, neurotic Woody be without someone as dynamic and lovable as Tom Hanks as his voice? And remember, this was like, maybe a year or two after he won his Oscars for Philadelphia and Forrest Gump. He probably thought he was just taking a break from it all with an animated movie for children. Instead, he handed planet Earth (more like Pizza Planet Earth, amirite) yet another legacy to celebrate him for.
Big
Despite what Michael Scott believes, Big is not the true story of a boy that became a man overnight. It's basically 13 Going on 30, but made 15 years earlier, and about a boy (no pun intended) trying to figure out Big Kid Things. It's a little wacky to look back on now, but it's an engrossing film with some iconic scenes — and only made me a little bit afraid of those corny fortune telling machines.
That Thing You Do!
It's a perfect film, people. Have you seen it? Just see it. Go in cold for maximum effect. But, fine, if you have to know something about it: Catchy tunes, successful small-town 1960s group with an upbeat, harmonious sound. Hanks plays band manager Mr. White. You're welcome.
Carly Rae Jepsen's music video for "I Really Like You"
Hey, remember when Tom Hanks was in the Carly Rae Jepsen video for "I Really Like You"? First, what a bop. Second, Hanks appears in this role because he's friends with Jepsen's manager, Scooter Braun. As a joke, Braun offered the part to Hanks, who said yes. Music video history is all the richer for it. And he doesn't even have to do that much.
Castaway
Hanks has a knack for starring in films that would otherwise comprise an audience's worst nightmare: Captain Phillips, Sully, and even The Terminal aren't exactly #goals from the beginning. But Castaway is his masterpiece. Marooned on island with a volleyball as his only friend? That beard? It's weird that he didn't get an Oscar for this one, honestly. Willllssssoooonnnnn!
Turner & Hooch
Hear me out on this one: Tom Hanks, buddy cop movie, dog. Tom Hanks' co-star in this movie is a dog. It is delightful and ridiculous and a hair violent, but has co-stars like Mare Winningham, Craig T. Nelson, and Reginald VelJohnson rounding out a movie that could not have been made at any other time than the late '80s.
Sleepless in Seattle
Nothing has ever meant more to '90s kids — apart from being allowed to buy jelly sandals, maybe — than Tom Hanks and Meg Ryan *spoiler alert* getting together onscreen. IRL would have been cool, but at least we'll always have Sleepless in Seattle and its hilariously dated cousin, You've Got Mail.
A League Of Their Own
There's no crying in baseball, but there IS happy crying over how good this movie is about a women's baseball team. The cast is bonkers, and anyone who can hold their own against Madonna in *any* scenario deserves our undying appreciation and applause.
David S. Pumpkins
I don't get it, I refuse to get it, but he is undeniably committed to this bit and I find that admirable. How many other Saturday Night Live sketches starring Oscar winners have received entire holiday specials devoted to them a full year after their bit debuted?
So, Tom Hanks, today we celebrate you. You make us laugh, you make us cry, your Twitter feed is impeccable — and it's your birthday. You are America's dad, and you are the best. Any questions?