Here's what Tom Felton has to say about Emma Watson's childhood crush
Hermione and Malfoy shippers exploded with happiness when they found out that Emma Watson actually had a major crush on her co-star, Tom Felton — so major, in fact, that she would check the agenda every morning to see if they would be shooting any scenes together. CUTENESS. "For the first two movies, I had a huge crush on Tom Felton. He was my first crush," she told Seventeen back in 2011. "He totally knows. We talked about it – we still laugh about it. We are really good friends now, and that's cool."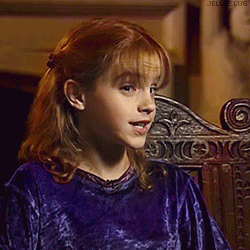 And naturally, we all understood that, because it's Tom Felton we're talking about here. And although Tom has been quite the gentleman and kept quiet about the whole thing, he's finally opened up about Emma's childhood crush.
At the recent premiere of The Wizarding World of Harry Potter at Universal Studios Hollywood, Yahoo interviewed Tom and finally asked him, point blank, if his feelings were mutual when they were kids. "Er, uh, um, no," he said while "fidgeting nervously," according to Yahoo. Then, they asked if he even knew she had a thing for him, to which he replied, "No" and bursting into "nervous laughter."
"Sorry I'm being a bit aloof with my answers," he added. (Maybe he's harboring a *current* crush on Emma? Sorry, can't help but dream.)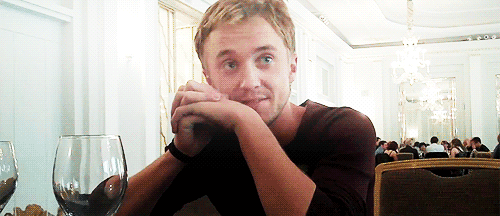 Tom also spoke about the punch. You know, the one in Prisoner of Azkaban, when Hermione gives Malfoy a face full of her fist. "I remember in the second film when I knew this was going to happen I went up to her and told her to slap me (it was slap at the time), to rehearse it. Course she just walked up and slapped me across the face," he told Yahoo, laughing. "My male ego didn't quite know what to do with it."
You know, just Emma being badass, as per usual. But what inspired the change from slap to punch? "I'm not sure! Somewhere between that and the third film it got a little bit more violent," he explained. "Luckily she didn't actually clock me with her fist. She's got a bit of a mean right hook, Emma Watson."
And we totally bet she does.