Tom Felton (aka Draco Malfoy) was singing in the street and literally no one noticed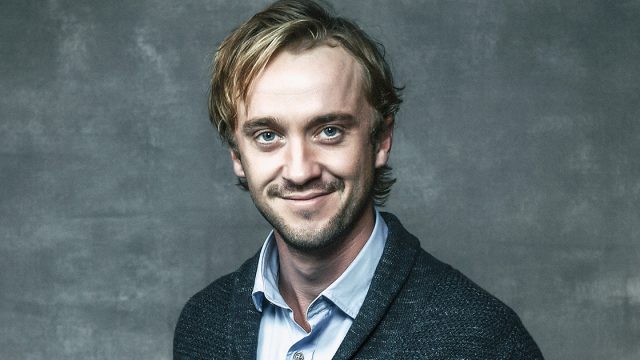 Given that we're HUGE Harry Potter fans, it's unlikely that we wouldn't recognize the cast from the movies — unless the actors were, well, in disguise. However, Tom Felton (aka Draco Malfoy) went singing on the streets of Prague, and literally no one recognized him.
Now, Tom Felton is no stranger to repping his Harry Potter roots. The actor has been spotted out wearing Slytherin regalia, having reunions with his on-screen father, and even reminiscing about how a certain Hermione Granger had a crush on him while making the Potter movies.
Of course, while Felton wasn't one of the three main *main* characters in Harry Potter, his role of Draco Malfoy is integral to the plot, and Felton delivered some of the films' best moments.
You'd think, then, that if *the* Draco Malfoy was busking in the streets with a guitar, people would recognize him.
But this isn't the case. In an Instagram video Felton shared, the actor is seen hanging out on the streets of Prague in the Czech Republic, standing among locals and tourists alike. He's wielding a guitar and singing a song. Indeed, it seems that he's even enjoying his anonymity, laughing while singing.
The actor is a keen musician, and we've seen more than a few snaps of him playing music with friends.
Felton is in Prague filming his upcoming movie, Ophelia, which also stars Star Wars actor Daisy Ridley, Naomi Watts, George MacKay, and Clive Owen. The actor plays Laertes in the movie, which is said to be a re-imagining of Shakespeare's classic play Hamlet.
Tbh, we know we'd totally freak out if we saw Tom Felton singing in the street, but his Insta video shows that he really enjoyed going incognito, which is pretty rad, too. May we propose a social media series of Felton performing in more busy places and seeing if he gets noticed or not?