Tom Cruise is open to a "Top Gun" sequel and he definitely has our attention
During a recent visit to Jimmy Kimmel Live, Tom Cruise opened up to the host quite a bit. Since Kenny Loggins (aka the guy who wrote the Top Gun anthem "Danger Zone") was also a guest on the show, they couldn't help but discuss the iconic movie. Cruise said it was the first time he and Loggins were actually meeting, despite the fact that they've been a part of each other's lives over the past 30 years since the film came out.
https://www.youtube.com/watch?v=l36BVi8K1uo?feature=oembed
Cruise shared some other surprising behind-the-scenes stories about the iconic film. He said that he kept quiet about his initial enthusiasm for making the movie so that he could get all sorts of awesome experiences that would "convince" him to do it.
He said, "I told my agent, 'I want to make this movie, but don't tell Jerry [Bruckheimer] I want to make this movie'...because I wanted to fly with the Blue Angels."
Of course, Cruise ended up getting all sorts of amazing experiences in the process of being "courted" for the film that were invaluable to both his role and his future as a filmmaker.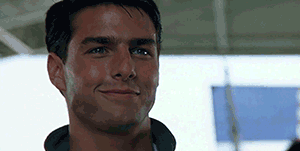 After hearing hilarious tales about Cruise flying with a pilot named "Bozo," Kimmel asked him point blank about the possibility of a Top Gun sequel. Referencing hints that producer Jerry Bruckheimer had already dropped earlier in the year, it wasn't totally out of the blue.
Cruise laughed and said, "It's just got to be right, that's all. I mean, we've just got to figure it out."
Um, we'll take that as a "YES!"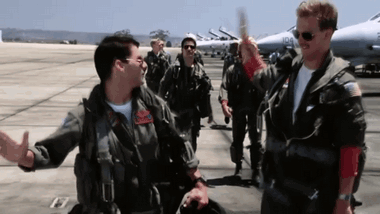 Despite the fact that he casually played it off and didn't answer ~specifically~ that he'd be doing it, it's exciting to even think about seeing Cruise as Maverick yet again.