Are Tom Brady's kids going to the Super Bowl? Here's what we know about whether they'll be there on Sunday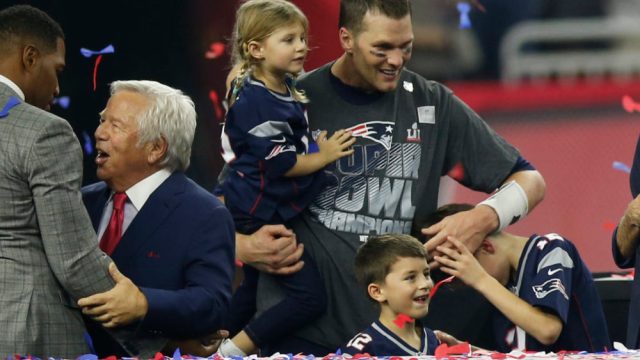 Between getting the buffalo chicken dip ready for the biggest football game of the year and anxiously anticipating the (likely) sob-fest of This Is Us, Super Bowl Sunday is a pretty big deal this year. Fans all across the United States (and really, the world) will gather to watch the New England Patriots, led by quarterback Tom Brady, and Philadelphia Eagles battle it out in a very cold Minneapolis, Minnesota to be crowned Super Bowl LII Champions.
Now, for both teams, this Super Bowl is a pretty big deal. The Philadelphia Eagles have never won the championship before, but they've made two prior appearances (including one against the Patriots). Meanwhile, at 40, Tom Brady will be the oldest starting quarterback in NFL history, and he seems pretty determined to prove that he can play forever.
In the time leading up to Super Bowl LII, many Patriots fans are currently asking a litany of questions about what to expect on Sunday. Like, is Rob Gronkowski actually going to play like he says he is, even though he's currently being evaluated as part of the NFL's concussion protocol?
Now, a quick scroll through the Instagram of Gisele Bündchen, famed model and Brady's wife, will tell you that yes, Brady's kids will likely make the trek to Minneapolis to watch their Dad make a run (lol) for his sixth Super Bowl ring.
Tom Brady's three kids, Jack (with ex-Bridget Moynahan), Benjamin, and Vivian, are no strangers when it comes to a football game — a perk that comes with being the child of the greatest quarterback of all time. While snaps of them at regular season games in their Patriots regalia is very telling at the likelihood of their attendance, the fact that they've made prior appearances at the Super Bowl is also pretty notable.
All three kids were on hand to celebrate the Patriots come-from-behind victory over the Atlanta Falcons in Super Bowl LI in Houston last year. And just two years prior, Bündchen snapped a pic of Jack and Ben cheering on the Patriots as they beat the Seattle Seahawks in Super Bowl XLIX in Arizona.
So while we haven't confirmed the Bradys' Super Bowl plans with Gisele, it's safe to say we'll likely see the entire family brave the cold in Minneapolis to cheer Brady on during Super Bowl LII.