Tom Brady & Gisele Bündchen are spouses who #twin in *identical* outfits at a pre-MET Gala bash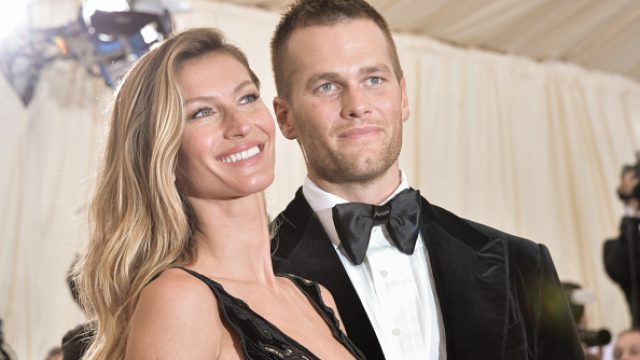 It's only a matter of time before truly in-sync couples *really* start to act alike. Or in this case, dress alike. And alas, that time has come for super-couple Tom Brady and Gisele Bündchen. Ahead of fashion's grandest night out (ahem, the Met Gala!), the Super Bowl star and his supermodel wife made waves at a pre-Met party last night when they stepped out in matching outfits. No joke, they were legitimately husband-and-wife #twinning in nearly-identical getups!
Keeping with a distinctly classic (and clearly androgynous) look, the two opted for striking black pantsuits comprised of tailored blazers and slim trousers. Underneath, they wore white T-shirts to offset the monochromatic styles for an understatedly elegant effect.
Look closely, and you'll see the two even buttoned their jackets the same way!
Adding a touch of feminity to her look, Gisele slipped on a pair of striking black sandals, some gold cuffs, and a gold-studded clutch.
https://www.instagram.com/p/BTjeco2BdZi
On the flip side, Tom kept cool with a *slightly* heeled boot.
While it may seem like an accident that the two were #twinning last night, we have a feeling these perfectly coordinated ensembles were also perfectly planned. Because as co-chairs for this evening's Met Ball, these two are no doubt on their fashion A-game. And we're certain that *whatever* their fashion choices may be, they're cool, calculated, and likely Anna Wintour-approved.
https://www.instagram.com/p/BTi7hJlFXB7
Here's a thought: Is this matchy-matchy statement actually a hint as to what Tom and Gisele will wear on the red carpet tonight? As in, could they *possibly* be #twinning at the Met, too? We don't know for sure, but we'll be keeping our eyes peeled for such a spectacular fashion statement!
In the meantime, we'll just be ogling over the Brady-Bündchen bunch and their superhuman good looks — and their superhuman fashion sense. #relationshipgoals