Todrick Hall is back with the 4 the 2000s jam you didn't know you needed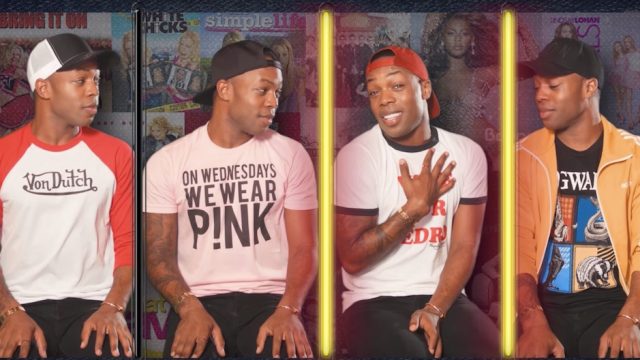 If anyone is having a fantastic summer, it's Todrick Hall — and he's got a lot more in the works. In addition to recently starring alongside his pal Taylor Swift in her new video, Todrick is also taking on solo projects. We last saw him in his '90s entry in his "4" mashup series. And now he's back with a '00s take.
Todrick is known for his inventive twists on pop culture and his fantastic chameleon abilities. Not to mention the fact that he's a triple-threat, with singing, dancing, and acting all within his wheelhouse. And we love Todrick's "4" videos. He combines all of his talents with four versions of himself sitting side-by-side. He's seated, but performing choreography at the same time. The four Todricks all sing and interact with one another. The harmonies are amazing, and the mid-mashup costume changes are hilarious.
And Todrick Hall's '00s addition to his "4" mashup series lives up to the legacy.
https://www.youtube.com/watch?v=VjwX5FoD5lE?feature=oembed
Todrick has included every 2000's hit you could have asked for. The video opens with Pink, transitions into "Oops I Did It Again," and dashes in just a sprinkling of N'Sync. And it seems like Hall is a real fan of The Pussycat Dolls. By our count, he included three of their chart-toppers. Does he throw in "The Thong Song" for good measure? Well, you'll have to watch and find out.
From Kelis to early Kanye, Todrick can sing it all. This series showcases his versatile talents so well. Now, it wouldn't be a proper 2000's mashup without some Kelly Clarkson, Justin Timberlake, and Alicia Keys in the mix. But Todrick also manages to shout-out his bff Swift with the inclusion of "You Belong With Me."
Chances are, if you were in high school during the early 2000's, these songs will be your faves.
We even get a shout-out in the description section of the video on Youtube:
"Hey Millennials! This one's for you!"
Thanks for looking out for us, Todrick. We can't wait to see what he does next.