Todd Fisher gave an update on how niece Billie Lourd has been coping these past few months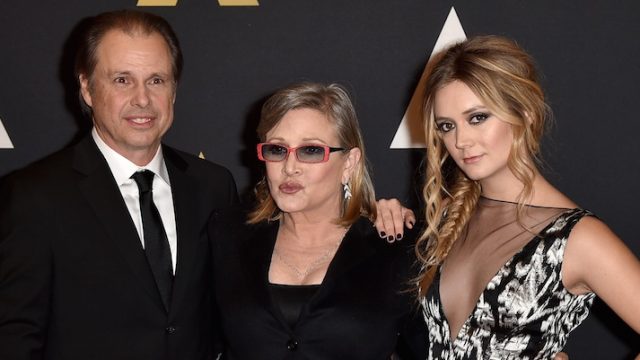 Since the passing of Carrie Fisher and Debbie Reynolds, we've been thinking of the family left behind and how they've been coping with these huge losses.
In an interview with Entertainment Tonight, Todd Fisher opened up about Billie Lourd and the grief she's dealing with at such a young age. "Billie is 24 years old. She's dealing with two gigantic losses," Todd said. "These two girls — my girls, my mother and my sister, were big, big personalities [with a] big influence on Billie, myself, many people." He went on to add that he's stepping back and giving her space to "breathe."
With these two amazingly influential women in Billie's life, it's no wonder that she's beginning to show similarities.
"She's also genetically Carrie and Debbie," Todd said, adding that Billie's father Brian Lourd has also been an "awesome" father who has supported her all the way. "[But] you take those genes, and I think you've created a pretty powerful gal…She is a lot more like my mother even than Carrie. You know, she's a little like Carrie but she's a lot like my mother, which means she's going to be another Molly Brown."
FYI Molly Brown was a philanthropist and survivor of the Titanic, and Reynolds played her in The Unsinkable Molly Brown. We have no doubt that Lourd is going to do great things in her life, but we're glad that right now she's receiving the space she needs to grieve quietly for her mother and grandmother.
Her posts on social media have been pretty scarce, but BF Taylor Lautner is always by her side.
"This girl is one of the strongest, most fearless individuals I've ever met. Absolutely beautiful inside and out. I'm lucky to know you @praisethelourd .. ❤️, me."
And of course, this photo makes us crumble EVERY time.
The public memorial for Reynolds and Fisher is this Saturday (and you can tune into the live stream), and Billie will be there laying low. Todd recalls that at one point Billie was considering singing the song 'Tammy' which was made famous by Reynolds, but she then decided that it might be too emotionally draining. We're glad that she'll experience the service free from the pressure of performing or delivering a speech, because it'll be difficult enough simply being there.
Sending so much love to Billie and the rest of the Reynolds-Fisher clan.