Evangeline Lilly's Wasp is *officially* joining the Marvel Cinematic Universe
We've got some fantastic news for those of us who love seeing female superheroes (so, all of us): There's going to be another kickass lady hero in the Marvel Cinematic Universe.
For a long time, it felt like we only had Black Widow – who still doesn't have a standalone film FYI– in a sea of male heroes. We'd get a phenomenal female supporting character here and there, like Peggy Carter in Captain America: The First Avenger, and Sif in the Thor movies, but overall, the representation for female heroes is low.
However, it seems like things are starting to turn around: We know we're getting a Captain Marvel movie (all the yes) and we've now learned that Evangeline Lilly's Hope Pym will get to become the Wasp in 2018's Ant-Man and the Wasp.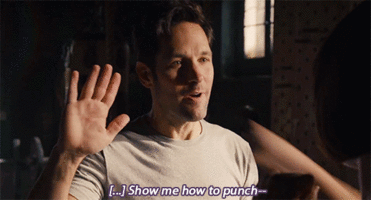 Lilly talked to Blastr at New York Comic Con and told them that there is a finished script for the sequel to Ant-Man andit's currently awaiting studio approval.
She says the film is really an origin story for the Wasp, which is making us jump up and down with joy.
But, Lilly also said that Hope won't be a part of Avengers: Infinity War. However, she continued that the Wasp is definitely going to be in Avengers 4.
https://www.youtube.com/watch?v=5bOprIWWMAk?feature=oembed
It makes sense: Infinity War is slated to be released before Ant-Man and the Wasp, and the studio didn't want the Wasp's first appearance to be in such a large film (Seriously, Infinity War is going to be massive).
This way, the Wasp gets plenty of screen time in a shared film with Ant-Man before joining another, large team-up movie. So, we get more time to give our undivided attention to a strong female hero? We're totally up for that.