This To All The Boys 2 star shared details on Lana Condor's "heart-wrenching" deleted scene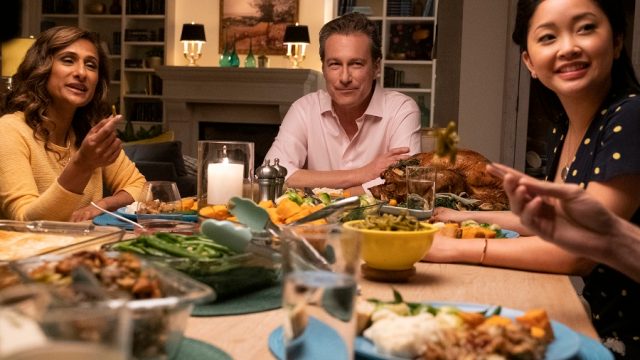 On April 20th, actress Sarayu Blue shared a memory from her time shooting the To All the Boys I've Loved Before: P.S. I Still Love You. Blue played the Coveys' neighbor, Trina Rothschild—you know, the neighbor who Kitty and Lara Jean encourage their dad to begin dating. She recalled a "heart-wrenching" scene her character shared with Lara Jean, and she praised Lana Condor's professionalism when things went so desperately wrong.
In the caption of her Instagram post, Blue noted that they were filming the To All The Boys sequel a year ago at this time.
"@lanacondor & I had this very sweet little scene where we had a ❤️ to ❤️," she wrote.
She let us behind the scenes of the Netflix movie, describing that the scene went through many revisions—even while they were on set already filming. Finally, the director decided that Trina would be gardening. But as Blue admitted, "I am a terrible gardener."
"Poor Lana had to do a fairly heart-wrenching scene, while I repeatedly murdered a daffodil (I think it was a daffodil?)," the actress wrote. "She also had to stop over and over again for incessant birds, planes, and quite possibly the longest train in the history of trains."
However, according to Blue, Condor was a true professional through it all.
"Lana is such a pro though, she would stop, stay in the heart of it, and get right back to the scene with absolute grace & professionalism," Blue wrote. "Somehow we got through it, crushed daffodils, relentless trains and all. The scene did not go into the film. I blame my gardening."
Condor responded, commenting, "Hahahahahahah I blame the trains and helicopters and birds and cars and and and."
Sadly, this interrupted heart-to-heart never made it into the final cut of the film. However, there does seem to be evidence of it in Netflix's press photos, which we added in below. At least it looks like they're laughing through the difficult scene.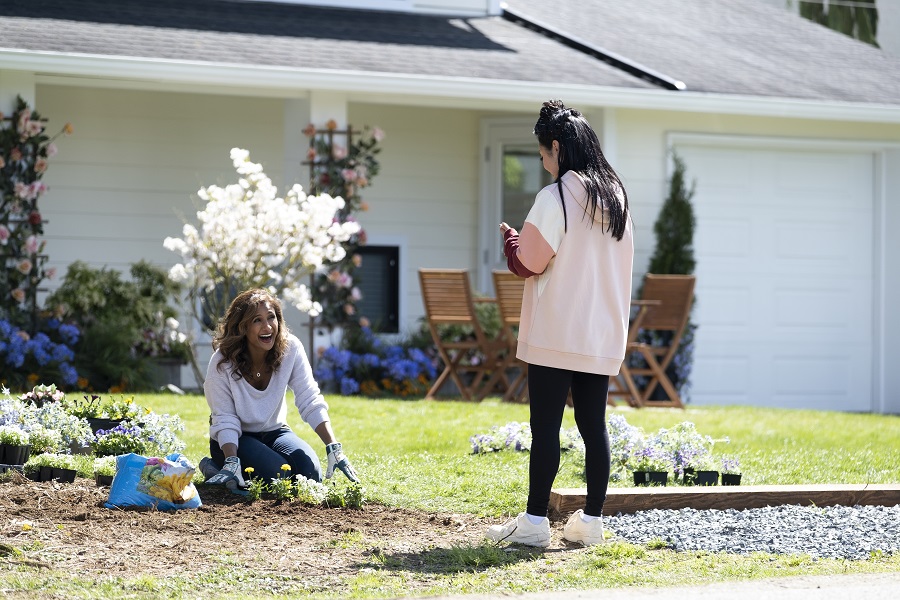 Because we can't watch the whole thing, we'll imagine what the scene was about. Maybe Trina explaining how she's not trying to replace Lara Jean's mother? (Sob.) Or maybe Trina offered some advice to Lara Jean about how to move on from a past love (much like Stormy did)?
Whatever the scene entailed, we'd love to gain access to the behind-the-scenes footage. Netflix? Are you hearing us?