15 beautiful wedding dresses that you can easily re-wear to work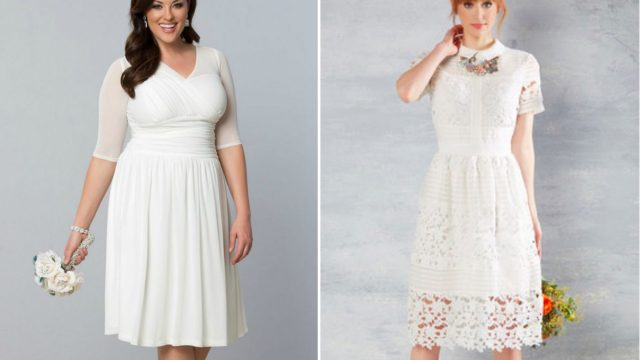 Even though wedding gowns are meant to be worn on a very special occasion, it doesn't mean they can't have more than one purpose. Long gone is the expectation of having to wear an elaborate, princess-style gown. With everyday retailers offering more options for  affordable bridal wear, your wedding dress is not necessarily fated to have a 24-hour lifespan.
Some gown designs are so versatile, they can be worn to other events…and even to work! The thought of wearing your wedding gown to the office might sound absurd, but trust, with the right additions and accessories, you can take that bridal gown from the ballroom to the boardroom! Plus, if you're spending $100+ on a dress, you might as well try to wear it more than once!
Our only warning? Skip on bringing leftover spaghetti to work that day, just in case. Here are 15 easy-to-wear wedding dresses that can be easily transformed into the perfect work outfit.
Pretty pinups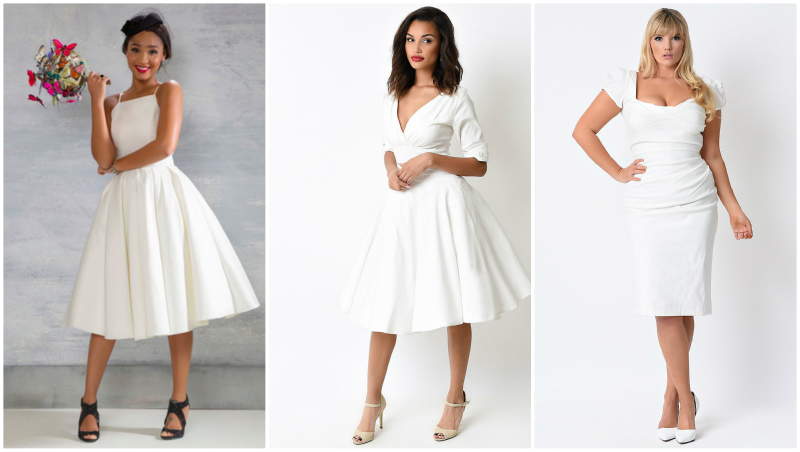 Beloved and Beyond Dress in Ivory, Modcloth, $175.00, 1950s Ivory Delores Sleeved Swing Dress, Unique Vintage, $88, Stop Staring! Plus Size Ivory Billion Dollar Baby Wiggle Dress, Unique Vintage, $162
Fit and flare dresses and pencil silhouettes SCREAM retro. These can give you some Mad Men steeze, whether you're invoking Betty Draper or Joan Holloway. With these styles you're instantly ready for the office.
Retro glam and mod-style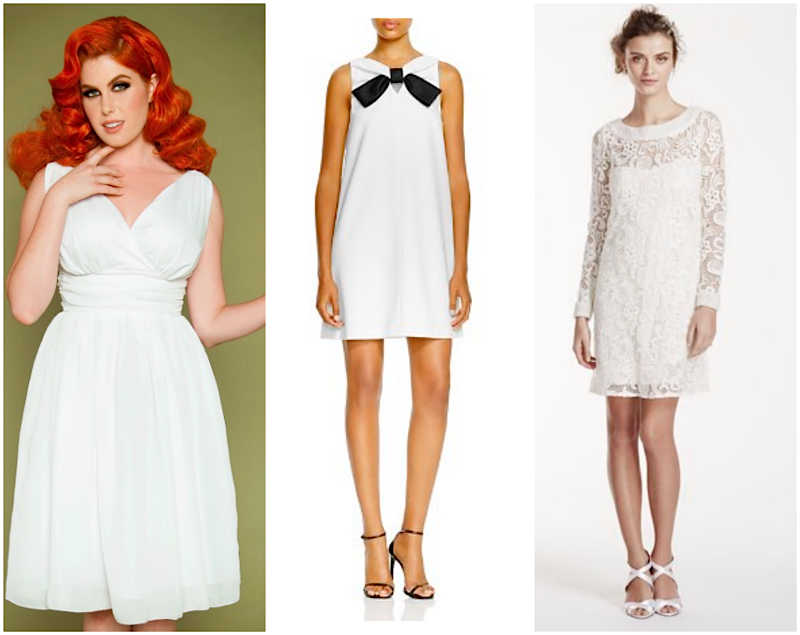 Fabi Swing Dress in Ivory Chiffon, Pinup Girl Clothing, $136,  Sleeveless Bow Neck Dress, Bloomingdale's, $655, Long Sleeve Short Lace Gown with Pearl Beading, David's Bridal, $399
Other throwback bridal styles, like the '50s-era glam gown on the right and the above mod dresses are also very transitional. Add some black tights to the middle A-line dress and you're set.
Stylish sleeves and sheer necklines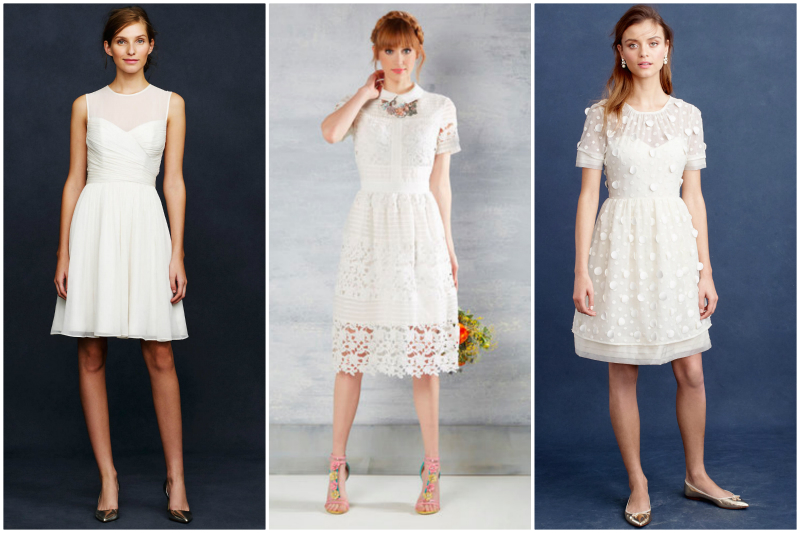 Ivory Clara Dress In Silk Chiffon, J. Crew, $295, Cordially Delighted Dress, Modcloth, $200, Kiera Dress, J.Crew, $550
Lace sleeves are subtle detail that can help make a dress either formal or more casual.
Business lace? Sign us up.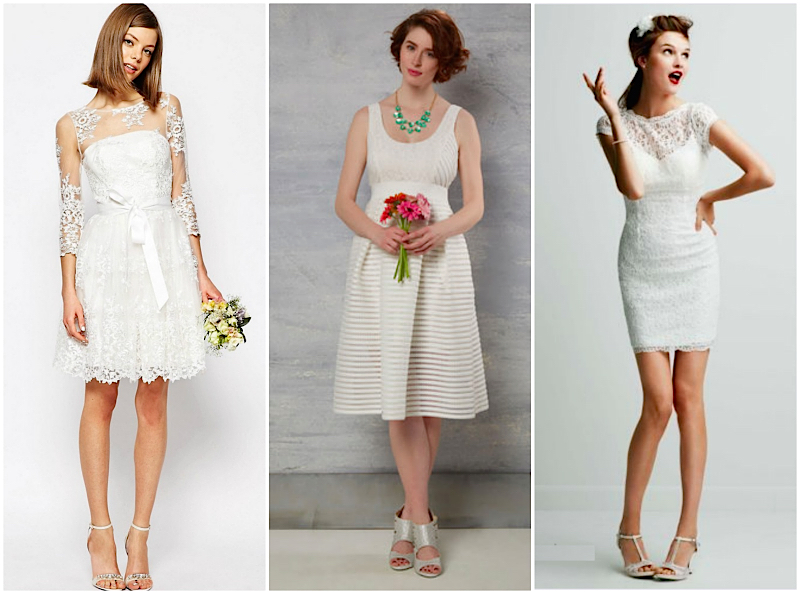 Long Sleeve Lace Mini Dress, ASOS, $271.09, Perfected Prestige Dress in White, Modcloth, $200, Short Lace Cap Sleeve Dress with Exposed Zipper, David's Bridal, $129.99
Adding a colorful cardigan and statement jewelry will turn your bridal gown into the work outfit of your dreams.
Simple stylish silhouettes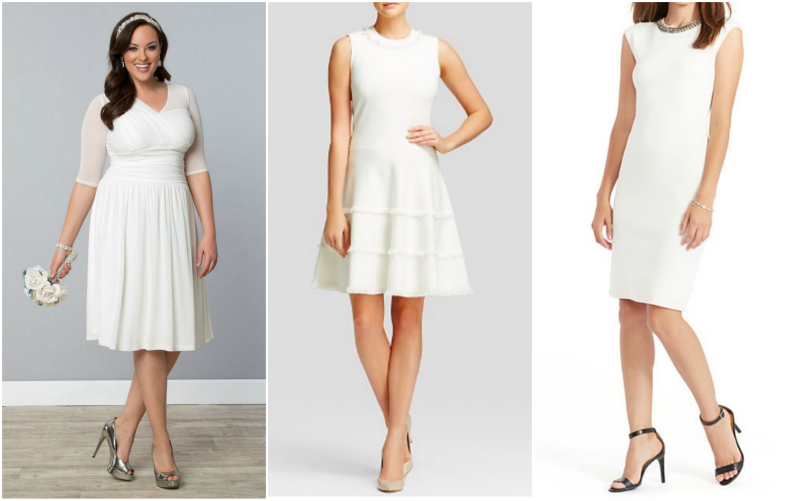 Forever Yours Wedding Dress, Kiyonna, $188, Kate Spade Fringe Trim Knit Dress, Bloomingdale's, $428, Lauren Ralph Lauren Embellished Neck Dress, Bloomingdale's, $148.50
Bright belts will add a pop of color to your gown. Throw a blazer over pencil-cut silhouettes, like the one on the right and you will be the ultimate Wedding Working Girl.