These celebrities are supporting Hilary Clinton, explain why they're #WithHer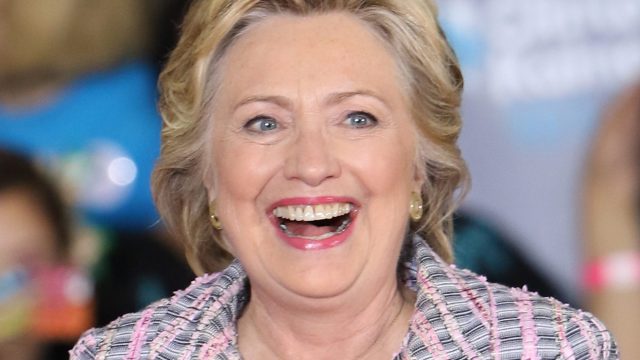 Hillary Clinton has been a divisive presidential candidate, to be sure. She's had a tough time winning over young voters and some of her antics (*ahem* hot sauce) have not gone over quite as well as hoped.
However! If there's one thing that's true about Hillz, it's that she has the support of Hollywood's best and brightest. In fact, the only list more star-studded than Hillary's roster of celebrity endorsements is (probably) the invite list for the Academy Awards.
So, even though we know you don't make your political judgments based on what celebrities think, we wanted to let you know who's said they're #WithHer — and why. Read on then tell us what you think!
1. Beyoncé
While Queen Bey hasn't officially endorsed a candidate, she did attend a fundraiser for Hillary earlier this and also spent her recent birthday chilling with the Clintons.
2. Lena Dunham
Lena Dunham has been one of Hillary's most vocal — and visible — celebrity supporters, hosting campaign events across the country and regularly posting about the candidate on social media.
At a July rally she said, "I am a pro-choice, feminist sexual assault survivor with a chronic reproductive illness. Donald Trump and his party think I should be punished for exercising my constitutional rights. His rhetoric about women takes us back to a time when we were meant to be beautiful and silent. Meanwhile, 22 years ago, Hillary Clinton declared that women's rights are human rights."
3. Kerry Washington
Endorsing Hillary Clinton in a video alongside fellow Shondaland-ers Ellen Pompeo and Shonda Rhimes, Washington proclaimed that Clinton is a "champion for all of us."
4. Connie Britton
It's no secret that Connie Britton is a fierce feminist, but her commitment to electing the nation's first woman president is pretty admirable. In an Instagram post from earlier this year, Britton wrote, "I heard Hillary speak yesterday and was absolutely blown away by her passion, intelligence, depth of experience and profound competence. And then I got to sit down and talk with her, and felt her humanity as a mother and working woman, and, most importantly, a woman who is genuinely dedicated to the ideals and values of the people of this country."
5. Demi Lovato
https://www.youtube.com/watch?v=IDawJCGc8qw
Endorsing Clinton at a July rally, Demi Lovato opened up about living with mental illness and said she supports Clinton because she's the only candidate who will fight for those living with mental health conditions.
And at a previous rally in January, Lovato said of Clinton, "I am voting for her because of her beliefs, her strength and the fact that she completely embodies the concept of women's empowerment."
6. John Legend and Chrissy Teigen
John and Chrissy are taking #RelationshipGoals to the next level. This pair is not only adorable with their baby and sweet to each other, they also campaign together. They were stumping for Hillary in Nevada this week, and even though they only had a cardboard cutout of the candidate, they offered some strong words about why they support her.
Said Teigen, "Why we personally love Hillary is that she is far and away the most qualified candidate for the job. She's ready to see this office again. She's seen it before. We're really supportive of her and we've loved her for a long time."
7. Kendall Jenner
https://www.instagram.com/p/BB769hmDo_T
The t-shirt that Kendall Jenner is wearing in this IG pic says it all: History by Hillary Clinton. The young model has used her star power to encourage young voters to register, and to remind her fans that women haven't always had the vote — so it's critical that we use it.
8. Pharrell
https://www.instagram.com/p/y91wPAEWxQ
A self-proclaimed feminist, Pharrell threw his weight behind Hillary Clinton early on in the presidential campaign.
In an October 2015 interview with Ellen DeGeneres he said, "It's time for a woman to be in there. Because you know what? Women think about things in a holistic way — it's not just so individual." He continued, "If we had somebody looking after our country that thought about things as a whole, I just feel like it would be different."
9. Emma Roberts
The Scream Queens star has long been a Clinton fan. Back in 2013, she tweeted this Hillary quote in the name of giving great advice: "Take criticism seriously, but not personally."
11. Kim Kardashian and Kanye West
Kimye snapped this selfie with HRC back in August 2015 and have since gone on to praise Clinton and support her campaign. (Kanye is reportedly one of her biggest donors!)
12. Gina Rodriguez
In a video supporting HRC, Rodriguez explained why she's #WithHer: "She's fighting for immigration reform, and fighting to keep our families together."
13. Jesse Tyler Ferguson
In a video supporting HRC, Jesse Tyler Ferguson shared some of Hillary's "top accomplishments" for the LGBTQ community. She was the "first First Lady to march in a pride parade," and as "Senator Clinton, she championed hate crimes legislation," he said.
14. America Ferrera
https://www.instagram.com/p/BIV_4IZgogs
Not only did she speak in support of Hillary at the Democratic National Convention, America Ferrera has been campaigning on Clinton's behalf for months and even wrote a powerful essay on Medium about why she stands behind the candidate.
"Even before the Latino vote was crucial to elections, Hillary held the first ever White House convening on Hispanic youth as First Lady," Ferrera wrote. "She's fought for early childhood education so that a kid like me, growing up in the public school system, doesn't fall behind before she even gets the chance to begin."
Plus, she added, "I'd like to literally stream Netflix and chill with Hillary. Seriously, I'd be down to snuggle in onesies with a pint of mint chocolate chip and do a Gilmore Girls binge with Secretary Clinton."
#Adorbz.
Now that your mind's on the upcoming election, if you haven't yet registered to vote, we highly recommend that you do.
Plus, you can use the following to help you check this task off your to-do list: